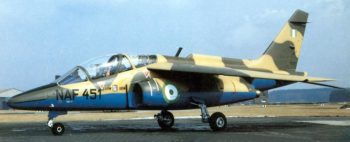 To combat the nation's security challenges, the Nigerian Air Force (NAF) said on Wednesday it has acquired new platforms and was currently reactivating existing ones.
The Chief of the Air Staff, Air Marshal Sadique Abubakar, stated this in Lagos during the inauguration of newly built Air Force Secondary School and Airmen Transit Accommodation at 401 Communications Depot, Shasha.
Abubakar said the in – country reactivation of NAF's aircraft was one of the gains of the Force capacity building, adding that six reactivated Alpha Jets engines were already being flown.
He said: "Just recently, we reactivated six engines of Alpha Jets that would have been taken outside the country. Those six engines have been mounted on the aircrafts and they are flying. That clearly shows our personnel are working hard.
"In Makurdi, we inducted MI-35 helicopter and helicopter gunships. Through the help of the federal government, we are reactivating airplanes. We are tying as much as possible to attend to the welfare of officers and men and they are now putting in their best.
"So, we are seeing the benefits in their inputs. Our focus is on capacity building. We trained some of our personnel abroad and they are coming back home to save the country of resources that would have been spent outside.
"This has contributed immensely towards equipping the service to conduct counter insurgency operations and also contend with other emerging security challenges across the country. Be assured that we will continue to do our best in meeting our statutory responsibilities of defending the territorial integrity of the nation."