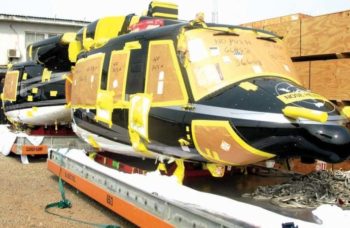 The Murtala Mohammed International Airport (MMIA) command of the Nigeria Customs Service (NCS) has handed over two brand new helicopters seized by the command to the Nigeria Air Force (NAF).
Speaking at the handing over of the aircrafts at the weekend, Controller of the command, Comptroller Frank Allanah said the two aircrafts with a duty Paid Value (DPV) N9.7billion were seized on November 7th 2016.
According to Allanah, the aircrafts were seized because the importer fails to provide the end user certificate from the National Security Adviser (NSA) as provided for by the customs law.
"A consignment with Airway Bill No 172 3244 4403 arrived the country through the Murtala Mohammed International Airport. It was detained at SAHCOL Shed pending fulfilment of all legal requirements for the importation.
"Upon examination, the consignment was found to contain two Civil Models 412 EP of Serial Nos. 36606 and 36608 Bell Helicopters respectively, in standard configuration and 23 packages "Said to Contain" their accessories weighing 1145kg.
"The importer could not produce End User Certificate, from the office of the National Security Adviser(NSA) an act which contravenes section 36 (2) of Customs and Excise Management Act (CEMA) L.F.N 2004. Consequently seizure was effected on 7th November 2016 in line with section 46 (b) of CEMA. The Duty Paid Value of the said consignment is N9, 757,135,240.86." Allanah said.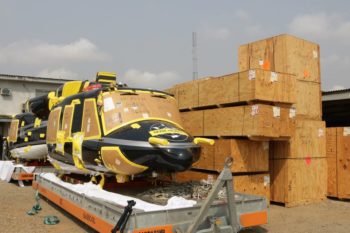 It was gathered that the aircrafts were allegedly imported by a former Governor who is also a cabinet member of the President Muhammadu Buhari's administration but it is unclear whether the former governor was importing the aircrafts for his state or for personal use.
Findings from the manufacturer reveals that the two helicopters with tail No N474 NE and N462UB and serial No 36608 and 36606 respectively were manufactured in 2012, by Bell Helicopter Textron of Canada.
The two aircrafts which were to be coupled in Nigeria is armoured in nature and have 23 big boxes of components "Said to Contain" the accessories of the aircrafts.Record shows that the 2010 model of the helicopter cost USD $8,500,000.
Though, Customs did not disclose the value of the seized aircrafts, it is estimated to cost over $12 million each.
Comptroller General of Customs Hameed Ali was represented by the Deputy Comptroller General (DCG) Enforcement and Investigations, Dan Ugo, while the Chief of Air Staff, Air Vice Marshal  Sadiq Abubakkar  was represented by Air Commodore Eze among other security agencies chiefs present at the handover ceremony.
This is the first time such high profile seizure is recorded by the Service.
Meanwhile the command said it generated N55.5billion revenue from January to December 2016.
The revenue according to the Controller surpassed the 2015 collection of N42.7billion by N12.8 billion.
The command also made several seizures of elephant tusks, foreign currencies among others.