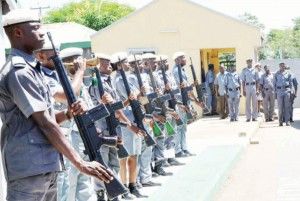 Controller, Federal Operations Unit (FOU) Zone 'C' Owerri, of the Nigeria Customs Service Comptroller Mohammed Uba Garba has charged officers and men of the Unit to be prepared ahead of the onslaught against smuggling of contraband goods into the country.
Mohammed, according to a statement by the Public Relations Officer of the Unit, Ifeoma Onuigbo gave the charge at an observance marking the 2017 Customs International Day held at the command in Owerri said that it has become much more imperative for Customs to re-strategize its operations against smugglers and their cohorts in order to always neutralize the antics of those still engrossed in the illicit business.
According to him, the theme of the celebration which is "Data Analysis For Effective Border Management" was fashioned to highlight the essence and significance of business partnership approach.
Mohammed added that it equally contributes in many areas such as trade supply chain security, world customs growth, enhancement of business standards and public private enterprises.
Mohammed said that the event plays a fundamental role in developing and in promoting business across the globe as against increasing the risks of international security.
"There is no gain saying, in the fact that International security dangers adversely affect the world business environment hence the World Customs Organization has resolved to celebrate this event every year to fulfil the requirements of the Customs bodies", adding that it also regulates the better establishment with meaningful appreciation of the business environment," he said.
Mohammed expressed delight that the Comptroller-General of Customs, Hammed Ali and his management team have since key into the objectives of this celebration which he said has not only become a source of inspiration and motivation to the men of the FOU Zone C but has made them a paragon in the crusade against smuggling of illegal goods in the country.
"Our current data base in respect of checkmating anti-smuggling activities by some unpatriotic Nigerians shows that we have continued to acquire stronger fame and credibility in the onslaught against smugglers, their agents and collaborators. However, we cannot claim to have reached the apogee because it is not yet over until it is over," he said.
He therefore enjoined them to redouble their efforts in order to meet the challenges ahead, assuring them that hard work; efficiency, commitment; dedication and integrity as well as application of professional ethics would not go unrewarded.
He reminded the officers' that the CGC has come up with fresh motivating packages to spur them into more actions and service delivery.
He thereby charged them to remain committed to their official duties despite all odds.