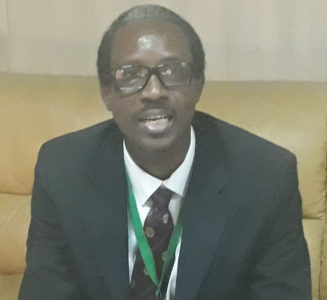 Kingsley Ejiofor is the Director of Investigation and Enforcement Directorate of the National Agency for Food, Drug Administration and Control (NAFDAC). In this exclusive interview with Shulammite 'Foyeku, Ejiofor who is also the Chairman, Federal Taskforce on Fake and Counterfeit Drugs and Unwholesome Processed Food, speaks on measures put in place by the agency to curtail influx of fake drugs in the country among other issues.
Excerpts:
In recent times, there have been several cases of fake pharmaceuticals impounded by officials of the Nigeria Customs Service at the ports and border stations. What measures has the agency put in place to curtail influx of counterfeit drugs in the country?
We have taken measures in order to stop that. Already, we have the infrastructure which is very important but the most important thing is creating awareness for people to know that such things as fake drugs exists and we have been educating people on the need for them to go to only registered pharmacy to get their drugs. They should not patronize hawkers or people who sell drugs on the streets or buses as well as motor parks, we tell them all that. We also have collaboration which is key to this. Like the instance of the Customs, we collaborate with them and the police. As a matter of fact, we have a police detachment domiciled in NAFDAC. They help us in our work; investigation and also the preparation of case files to enable us prosecute. We have very porous borders so we have men who are there and overseeing the borders and also working closely with the Customs as well and other regulatory agencies in case they find themselves around counterfeit or what we now call falsely labelled or substandard drugs because that is the name that the World Health Organization (WHO) has chosen and we go after them. So that is part of what we have been doing.  The media has also been helpful in creating this awareness that has led to some of the discoveries we have made. So it is a task for everybody. Talking about infrastructures, we have the laboratories and they are International Standard Organization (ISO) certified. We have the US pharmacopeia, they have accredited our laboratories. Our laboratories are world standard so we can tell you whether a drug is good or bad. For example, one of the analyses we carried out in respect of Oxytocin was tried internationally and the same result came out. That is to tell you that we have a standard laboratory. So these are some of the measures we have put in place to deal with counterfeit drugs. Now, we are coming up with what we call Coordinated Warehouse Centres (CWC) where our manufacturers can take their drugs to a centre. This is to ensure that we have a proper distribution channel so that we will be able to trace and track some of these sub standard drugs. That is part of what we are trying to do to ensure that genuine drugs get to people.
How has the collaboration with Customs enhanced your operation?
The collaboration has helped to take the counterfeit drugs out of the supply chain and circulation. Just imagine if those drugs get to the hands of patient, they could kill. Drugs are chemicals, they could kill, it is as bad as that. So for that reason alone, I will say the collaboration is very laudable. Only that for the most part when we have those seized consignments, we don't have suspects; the people who are behind the import most times are not available. Some of them abandon the consignment. It is only some genuine ones that will show face and come with their documents. But when they know that the game is up, you hardly find them around. But that does not stop us from investigating but it makes it very difficult to trace them. Apart from that, it is has been wonderful working with Customs. I recall the other time they handed some of the fake drugs to us. We have the incidence of Tramadol all over the place, Really Extra ,Diclofenac and Caffeine tablets with all manner of pictorials. You cannot vouch for those drugs because they are not registered even with the way they appear; you will know that these are counterfeit and falsely labelled products. So, I don't think we can have it better than this with Customs. The collaboration has been wonderful and of course, we need them and we believe that the relationship will get better.
Can you give statistics of seizures made so far by NAFDAC?
I cannot tell you off hand but for the prosecution we have over 64 cases at the various courts across the country. We have cases we are still investigating and there are drugs we have destroyed. Just last month, on the 25the of August 2017, we destroyed some consignments of counterfeits medicines worth over N3 billion. Some of them were voluntarily forfeited, some as a result of court conviction and some were handed over to us by Customs. So we have destroyed so much. There was another we had in the first quarter of this year, 11 containers of counterfeit medicine with a street value of N11 billion.  So all together this year, we have destroyed pharmaceuticals with a street value of over N14 billion. We don't only destroy but we also prosecute, people go to jail. For example, as I speak, a lady that was involved in the counterfeiting of metronidazole was sentenced to seven years imprisonment without option of fine. We are also using this opportunity to call on the National Assembly to pass our bill to strengthen our fight against counterfeiting. Around the world NAFDAC is recognised and applauded because of the work they are doing. NAFDAC is one of the 17 leading regulatory agencies in the world so we are working. I don't have to blow our trumpet because I know there is still more to do.
As part of effort to implement the Executive Order on ease of doing business at the ports, NAFDAC and some agencies were asked to leave the port. Has this in any way impacted on your operation?
We are a government agency and have to follow the government. We can't be in government and also be criticising the same government. But if you follow our law, it allows us to be in the port but government in its wisdom have determined that for ease of doing business, we should be by the side. That does not mean we cannot be involved and that is why we need the customs more. Let us allow the Executive Order work and it can work. We know that there is no place you will not find bad eggs but the issue is that we just have to carry out the government order. In the past I recalled we were not at the port but we were called back to the port and it was wonderful because that drastically reduced the incidence of counterfeiting. We believe it can still happen but the fact now is that we should make the Executive Order work. Customs invite us when necessary but then you know our borders are porous, that is the issue and it is a big problem but we have to make the best of the Executive Order. The Order is meant to facilitate business so we are making it work and it will surely work.
What is your message to consumers who sometimes out of ignorance patronize drug counterfeiters?
My message is that they should patronize only registered pharmacy and when you go there, you insist on seeing the certificate of registration of the premises and that of the superintendent pharmacist. One you have them there, your mind should be at rest that at least, you are sure that you are dealing with a professional. Drugs are not akara, they are delicate and dangerous products. If it is anti-malaria, there is always something on it that you have to scratch to know if it is genuine or fake.  Don't go the streets, motor parks to purchase your drugs. Don't patronize people who sell it in one form or the other because it is like someone paying for his death. We want to advise people to go to the right place, deal with the right person in their purchases. They should also ask for receipts. When you go to a place and ask for receipts and they don't issue you with receipts, know that there is something wrong. That should put you on notice that that there is a problem and don't hesitate to come to NAFDAC and we can assure you that we will not disclose your identity. I also want to use this opportunity to call on corporate organizations to come and assist us as part of their Corporate Social Responsibility to support what NAFDAC is doing so that together we can safeguard the health of the nation.
Copyright Ships & Ports Ltd. Permission to use quotations from this article is granted subject to appropriate credit given to www.shipsandports.com.ng as the source.