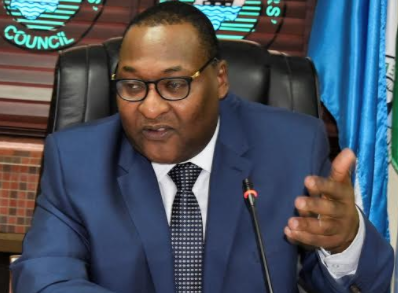 The Federal Government said has banned all agencies from conducting individual cargo inspection at the ports, noting that such inspections must be done jointly.
Agencies involved in cargo inspection at the seaports include the Nigeria Customs Service, the National Agency for Food and Drugs Administration and Control (NAFDAC), Standards Organisation of Nigeria (SON), National Drug Law Enforcement Agency (NDLEA), Department of State Security (DSS), and Nigerian Agricultural Quarantine Service (NAQS), among others.
The Executive Secretary, the Nigerian Shippers Council (NSC), Hassan Bello said on Wednesday during a courtesy call to the Nigerian Drug Law Enforcement Agency (NDLEA) Chairman, Buba Marwa, that implementation of the Nigerian Port Process Manual (NPPM) recently approved by the Federal Government has commenced with no provision for individual inspections by agencies, directing inspection agencies to assemble for joint inspection by 9 a.m.
"What causes delay is the lack of harmonisation of operating procedures of many agencies at the port. We want all agencies to be on the same page so the process is efficient. The manual says everyone should assemble at the port by 8:30 a.m. and by 9:00 a.m., everyone does joint inspection. This will cut out delays, ensure efficiency, and promote ease of doing business," Bello said.
He said the port is already being digitized as "some terminal operators have 98 per cent and others are coming up".
"Our target is that by the end of the first quarter, we should achieved 90 per cent digitalisation so you don't need to go to the port to transact business.
"We are also aiming to have 24 hours operations at the seaports just like the airports. We are doing it in conjunction with our sister agencies at the ports," he said.
The NDLEA Chairman, Buba Marwa, pledged his support to the new reform. He said the NDLEA will not compromise its duties in stopping illicit drugs from entering the country.