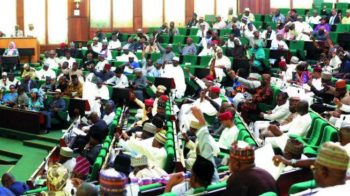 The house of representatives has resolved to set up an ad hoc committee to probe the termination of the contract between Integrated Logistics Services (Intels) by the federal government.
Last week, the Nigerian Ports Authority (NPA) voided the boats pilotage agreement it had with Intels.
Discussing the development on Wednesday, the lower legislative asked the government to return to "status quo" to avoid "injury" to the workers of the company.
The resolution by the house followed a motion sponsored by Diri Douye, a lawmaker from Bayelsa.
Moving the motion on the floor of the house, Douye expressed concern that over 7000 Nigerians work for Intels and terminating the contract would have negative effects.
The lawmaker said there is a need to ascertain the process of termination of contracts between Nigeria Ports Authority and Intels.
Contributing to the debate, Ekpo Attah, a lawmaker from Akwa Ibom, said the motion is important and "status quo" should be maintained.
"Intels employs a lot of people. I submit that this motion is very pertinent and Intels should be returned to status quo," She said.
Opposing the motion, Rotimi Agunsoye, a lawmaker from Lagos, said Intels should go to court to seek redress.
He said the house had no business looking into the issue.
"If they have any problem with government they should go to court. The motion should not come here," Agunsoye said.
Rita Orji, a lawmaker from Lagos, said there is the need to probe the matter to provide a fair and hear both sides.
"If you want to terminate a contract there are ways of going about it. I'm supporting the investigation – we are talking about 7,000 workers and we complain about unemployment," Orji said.
"Do we have a Nigerian company that is ready to take over what Intels is doing. We should hear both sides so that there be fair hearing on both sides."
The motion was adopted by the house after Yakubu Dogara, the speaker, put the motion to a voice vote.
The committee is expected submit its report in two weeks.
Copyright Ships & Ports Ltd. Permission to use quotations from this article is granted subject to appropriate credit given to www.shipsandports.com.ng as the source.