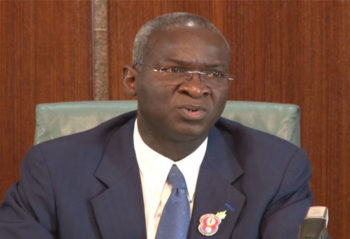 The House of Representatives has summoned the Minister of Works, Power and Housing, Babatunde Fashola, to explain why he described members of the National Assembly as having "stark and worrisome knowledge" of the budget process.
The lawmakers are angry over Fashola's comments on the 2017 budget, which they say are meant to incite Nigerians against the legislature.
The House said the minister was part of the discussions that produced the budget.  
Fashola had claimed recently that one of the spokesmen of the National Assembly did not have a grasp of issues relating to the 2017 budget.
"This showed very stark and worrisome gaps in knowledge of the spokesperson about the budget process he was addressing,'' the minister said.
While acknowledging that legislators could contribute to budget making, Fashola had disagreed with the practice where the legislative arm of government unilaterally alters the budget after putting members of the Executive through Budget Defence Sessions and Committee Hearings to the extent that some of the projects proposed would have become materially altered.
While acknowledging the need for legislative input from the representatives of the people to bring forward their developmental aspirations before and during the budget production process, the Minister had observed that it amounted to a waste of tax payers money and an unnecessary distortion of orderly planning and development for all sections of the country, for lawmakers to unilaterally insert items not under the Exclusive or Concurrent lists of the Constitution like boreholes and streetlights after putting Ministries, Departments and Agencies (MDAs) through the process of budget defence.
In their responses, both the spokespersons of the Senate and the House of Representatives accused the Minister of spreading "half-truths" and making "fallacious " statements.
However, while dismissing the allegations in the course of an official trip outside the country, Fashola said it was sad that the lawmakers would resort to name calling even without understanding the facts of what they were getting into.   
No date has been fixed for Fashola's appearance. 
Copyright Ships & Ports Ltd. Permission to use quotations from this article is granted subject to appropriate credit given to www.shipsandports.com.ng as the source.