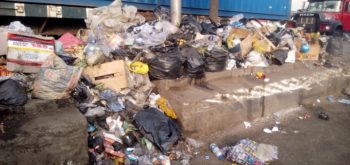 Residents of Apapa and its environs have accused the Lagos Waste Management Authority (LAWMA) of abandoning heaps of refuse around the Apapa area for several months. 
Some of the residents told SHIPS & PORTS DAILY that the unsightly heaps of refuse and the stench which has suddenly overwhelmed the area is becoming nauseating and could lead to an epidemic.
A resident on Creek Road, who identified himself as Shonibare said, "The Local government council used to come and park the refuse before, but they have not shown up since; I guess that is why the refuse has increased that much, but it's scary."
Another resident named Chigbo also complained about the stench from the refuse heaps. 
"LAWMA should pack the refuse and NPA should put security personnel there to prevent people from dumping garbage here," he said.
The Information Officer of the Apapa Local Government Area, Olaniyi Idowu said LAWMA, whose responsibility it is responsible to collect refuse in Lagos State, would be contacted to do its job.