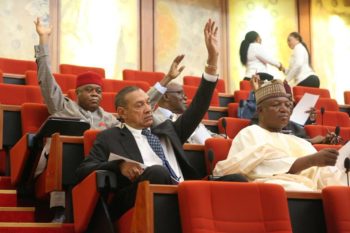 Nigerian senators on Tuesday criticised Acting President Yemi Osinbajo for allegedly questioning their constitutional authority to confirm the nomination of appointees by the executive arm.
Senators also expressed concern about the refusal of the executive to drop Ibrahim Magu as the acting chairman of the EFCC after his nomination was rejected twice by the upper legislative chamber.
At the resumed plenary after the Eid-el-Fitr holidays, Senate President Bukola Saraki said Osinbajo must respect the laws of the country and the powers of the parliament as enumerated in the Constitution.
The senators backed a series of resolutions against the executive, including one that demanded an immediate retraction of Osinbajo's comment, which some of them said was antithetical to a democratic system.
Osinbajo had sent a request for confirmation of Lanre Gbajabiamila as the Director-General of National Lottery Commission.
Sani Yerima, APC-Zamfara West, prayed that senators should not treat the request because Osinbajo had dismissed the powers of Senate to confirm nominees.
"Acting President must respect the Constitution and laws enacted by the National Assembly as relating to the confirmation of nominees," Dino Melaye, representing Kogi West, said while contributing to the motion.
Melaye also demanded that "the Senate should suspend all issues relating to the confirmation of nominees," according to a text of proceedings live-tweeted by the Senate handle.
The senators also stopped all confirmation hearings for nominees forwarded by Osinbajo until all contentious issues surrounding their powers to confirm appointees are resolved.
Other senators took turns to rebuke Osinbajo and the executive at large for alleged disregard of legislative authority.
Deputy Senate President, Ike Ekweremadu, demanded that the law must be obeyed.
Olusola Adeyeye, APC-Osun Central, also said Osinbajo should not place himself above the law, adding that Nigerians must choose strong institutions over strong individuals.
Kabir Marafa, APC-Zamfara Central, said Osinbajo must retract his comments, a prayer that was granted after being seconded by Bassey Akpan, PDP-Akwa Ibom North-East.
Osinbajo drew the ire of lawmakers when he said in April that the Senate's powers to confirm nominees were limited.
"I fully agree with Mr. (Femi) Falana that there was no need in the first place to have presented Mr. Magu for confirmation," the Acting President said, citing Section 171 of the Constitution as his authority.
The acting president was declaring the administration's full support for Magu, about a month after the anti-graft official was rejected a second time by the Senate.
Senators insisted that Magu, who has been functioning in an acting capacity since 2015, step down and warned the executive that they won't even consider listing him up for confirmation hearing if his name is forwarded again. 
Copyright Ships & Ports Ltd. Permission to use quotations from this article is granted subject to appropriate credit given to www.shipsandports.com.ng as the source.