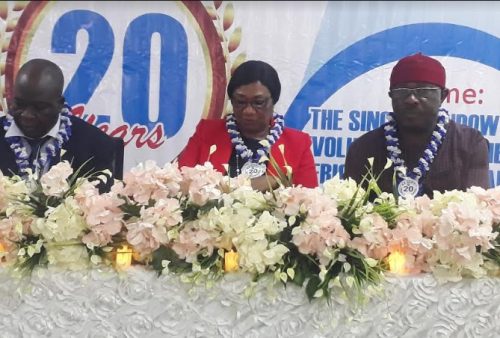 The Executive Secretary, Nigerian Shippers' Council (NSC), Hassan Bello, has decried the absence of single window platform at the nation's port, saying that Nigeria is the only country in West Africa that is yet to deploy the platform; a development he said is costing the nation huge revenue loss. 
Bello stated this in Lagos on Tuesday at the 20th anniversary of the National Association of Government Approved Freight Forwarders (NAGAFF), where he sought for collaboration among the various industry stakeholders to ensure the full implementation of the single window platform for quick cargo clearance at the nation's port. 
Represented by the Deputy Director, Monitoring and Enforcement, Mrs. Ifeora Celine, Bello said the single window platform when deployed will help eliminate human contact at the port, which he said breeds corruption and delay in cargo clearance.
He said, "We have to ensure we put that (single window) in place because we want to eradicate all manual processes, which bring about delays and corruption. We have to do this because we don't want people in the port to have human contact.  
"About three years ago, I was in Cotonou where we had a workshop on single window and you won't believe it that nearly all the countries in West Africa have put in place single window except for Nigeria, which is supposed to be the giant. Cotonou, for example, told us that when they put single window in place, their revenue increased by 38 percent and cargo dwell time reduced from 14 to 7 days.
"We want to bring in efficiency at our port but it is like efficiency is running away from us. Most of the cargo that comes into our country today still undergoes physical examination, even the scanners are not working. These are some of the reasons why we have to fight hard to join the people who are doing the right thing and succeeding for us to be competitive."
In his paper presentation themed, 'Single Window Evolution Under the African Continental Free Trade Agreement Regime: The Implication for Freight Forwarders', Chairman, Maritime Studies, University of Lagos, Prof. Iyiola Oni, said freight forwarders must be prepared to enjoy the benefits of AfCFTA.
He emphasised the need for freight forwarders to begin to study the agreement and operations of the single window platform to become acquainted with their imperatives even as he advised that agents can also start brokerage partnership and start pilot business schemes in anticipation to the full- scale operations of the AfCFTA in 2020.
"Since almost all countries in Africa are coming on stream in this agreement, freight forwarders should start studying and identifying which countries they have comparative advantage with that they can link up with easily. As operators plan and position for these giant strides by the African Union to boost economic activities in the continent, the spirit is for you to rise above local challenges, develop adequate capacity for continental and global competition," he said.
Earlier in his remarks, the Founder of NAGAFF, Dr. Boniface Aniebonam, said he was delighted that the liberation struggles to enthrone best practices in the freight forwarding practice, which began 20 years ago have been successful.
He said, "I am convinced that I have left NAGAFF in the hands of great men and women who have been indoctrinated to carry on with my dreams of enthroning sustainable freight forwarding practice in Nigeria. I call on all intending members and more especially the young freight forwarders who are direct beneficiaries of this professional revolution to keep the candle alive burning until we finally achieve all objectives and mission of NAGAFF revolution." 
Aniebonam also made a case for the adoption of individual declarant in the cargo clearing operation. He said the current system, where the declarant in trade documents is a corporate body, as recognised by the Customs and Excise Management Act (CEMA) is responsible for trade malpractices at the nation's ports.