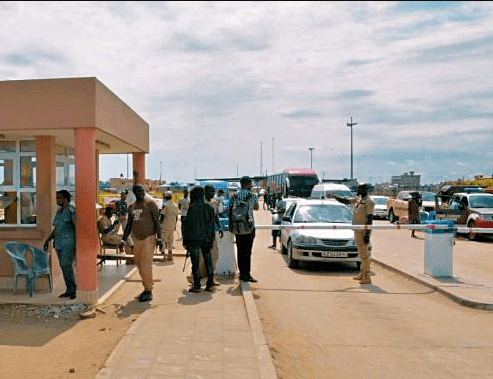 With barely 48 hours to the expiration of the January 31 deadline for the first phase of the border closure exercise, the National Association of Government Approved Freight Forwarders (NAGAFF) has urged the Federal Government to expedite action in its engagement with neighbouring countries to re-open the border.
The government had in November 2019 extended the duration of the border drill exercise to January 31st following an earlier closure in August as part of efforts aimed at reducing smuggling of foreign rice, arms and ammunition, frozen products and other contraband goods.
Speaking at a media parley in Lagos on Wednesday, founder of NAGAFF, Dr. Boniface Aniebonam, said while the association supported the decision to close the country's land border, there is need for government to put in place sustainable measure to effectively police its borders as there is limit to areas the Customs could man.
He said smuggling of rice still thrives as these contrabands continue to find their way into the markets with smugglers devising various means including the use motorcycles and camels to ferry them into the country.
"We need to do more to what we are doing now to protect our borders. Government should take a second look and increase their engagement with the neighbouring countries with a view to re-opening the borders as fast as possible. We are asking that the government should fast forward the engagement and see that the tension at the borders is lessened. Hunger has no bounds and our borders are so porous. If we allow this to continue, and we are not careful, government may end up losing more.
"Our neighbours must be brought to round table to discuss those things that the government is talking about them being a bad neighbour. The government should have by now, from what they have done, address the issue while we allow regional integration.
"If government have not concluded whatever made them to shut down the border, they should tidy it up for the public interest. Now, smuggling is still going on with the use of camel, okada among others. How many of these can Customs arrests?" he quizzed.  
Aniebonam however, cautioned the government against being hasty in its decision to reopen the borders if the conditions set out for neighbouring countries would not be adhered to.
According to him, "There is no need rushing to do it, so that these things do not occur again. Whatever it is, let us tidy it once and for all."
The NAGAFF founder who described Benin Republic as a bad neighbour to Nigeria said despite the donations of hilux vehicles to Benin to help combat smuggling, the protocol on transit goods has not been followed to the detriment of local manufacturers.
 "The authorities should be able to take care and protect our borders.  But then, it becomes more disturbing when we have bad neighbours.  Our neighbours are not adding value to respecting the rules of engagement on transit cargo,"he said.
Aniebonam warned freight forwarders against making false declaration to avoid their goods being seized by Customs, stating that a major problem in the cargo clearance process is improper documentation by agents.
"Presently, the major problem in the port is documentation. If you make wrong documentation, definitely, you are putting the cargo in danger. It hurts when a consignment that is dutiable is being seized because somebody is trying to cheat. Now, the revenue target for Customs in 2020 is higher than what they had in 2019, it means that Customs will do things differently and this calls for concern that agents must try as much as they can to be honest in whatever they do," he said.