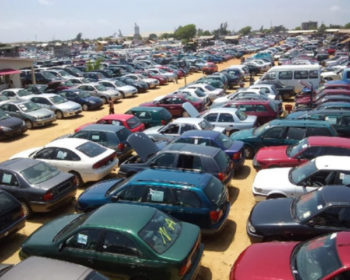 The National Association of Government Approved Freight Forwarders (NAGAFF) on Monday said it supported the Nigeria Customs Service (NCS) on the enforcement of duties on uncustomised old vehicles.
National Publicity Secretary of NAGAFF, Stanley Ezenga, disclosed the association's position in an interview in Lagos.
Ezenga said the association was surprised by the growing opposition to the enforcement aimed at discouraging smuggling and boosting government`s revenue.
Ezenga said non-payment of duties on imported vehicles, whether new or old, was an act of economic sabotage and advised defaulters to comply with Customs' directive and pay their duties.
He said the NSC had given the enforcement a human face with the rebate offered and the time frame for compliance.
"We at NAGAFF do not see anything wrong in the decision of the Customs to collect duties on imported vehicles that are not customised.
"Remember these vehicles were smuggled in the first place and it is within the mandate of the Customs to collect duties on them even when such are kept in warehouses or even in people`s bedrooms.
"So, there is nothing draconian or bad in this step; it is like asking people to pay their taxes and distraining companies that are not complying. We think that is the law.
"This step is about helping the economy. I think the 60 per cent rebate and the collection deadline is humane enough. I think it is a step in the right direction,"he said.
Ezenga urged all Nigerians to support the NCS in its efforts at entrenching transparency in the maritime sector and generating revenue for the country.
The Senate and the Nigeria Labour Congress had criticised the NCS on the enforcement of the duties.
They described the action as unjustifiable and capable of inflicting hardship on the people.
The Public Relations Officer of NCS,  Joseph Attah, on Wednesday, said that the NCS would still go ahead with the collection of the duties in spite of criticism in some quarters.
He advised owners of vehicles imported into the country from 2015 to pay the duties between March 13 and April 12 or the vehicles would be impounded.
Attah said that 60 per cent rebate had been granted across board on such vehicles and more payment points had been opened to ease the process.