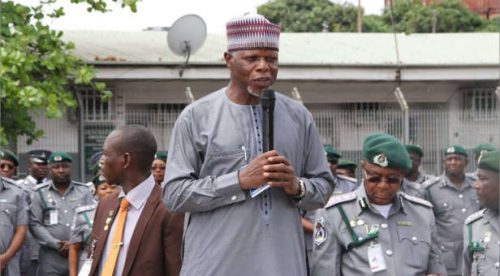 The Nigeria Customs Service (NCS) has explained why it cannot grant zero duty on imported vessels in Nigeria as being clamoured for by indigenous shipowners.
Indigenous ship owners had on several occasions decried huge taxes by Customs on ships acquired by Nigerians, while foreign shipowners work at an advantage bringing in ships on a Temporary Importation Permit granted by the Ministry of Finance and paying next to nothing compared to the indigenous operators.
The development, industry experts say, has paved the way for foreign-flagged ship owners to take over the business opportunities created for local ship owners under the Cabotage Act, which makes it mandatory for all cargoes within the coastal waters to be conveyed by local ship owners.
But speaking with newsmen on the sidelines of a stakeholders meeting in Lagos last week, Deputy Controller of Customs in charge of Enforcement at the Tin Can Island Port Command, Deputy Comptroller Dera Nnadi said the NCS does not have the power to grant such request as the Service does not formulate but only implement government policies.
He said, "Besides implementing policies, we take feedback from stakeholders and we give that to government and then we also take government policies, interpret it and share with stakeholders. Some of those feedbacks, sometimes, from what you saw here today, may not be very complimentary to the stakeholders.
"The truth is that we didn't decide that, we only implement it as a government policy but then I think there is a little misconception here about what waiver fiat is all about. 
"It is not totally true that when you are bringing cargo under TI (Temporary Importation) it is almost free. No. I think that if they calculate the duty you would have paid on that item assuming it is being brought in for home use and not for temporary importation, you are supposed to deposit that same amount in a bank as bond and then present the bond to the Nigeria Customs Service and on the basis of that, you are granted waiver.
"Unfortunately, not for indefinite purposes, it is for a period ranging from six months to two years renewable. Part of the reasons for it being renewable is that it cannot be renewed for more than a specific period. For instance, in some cases, you can't renew more than twice. 
"So, if you are granted waiver for the first two years, you come back for renewal, of course, after the second two years, you are expected to re-export and when you are coming back, you pass through the rigors of obtaining the documentation process once again.
"Unfortunately, stakeholders in the maritime sector are requesting that there should be complete waiver on duty on commercial vessels. It is not for Customs to do that, it is for government to do that and then Customs will implement and it is already being achieved for commercial airlines. 
"Commercial airlines don't pay duty but then private airlines pay duty because we consider them luxury and that is what I tried to emphasize when I said that sometimes you try to emphasize certain things to help certain aspects of the industry. Yacht for instance pay so much duty because it is also considered luxury but then it is not for Nigeria Customs Service to say remove duty on commercial vessels."