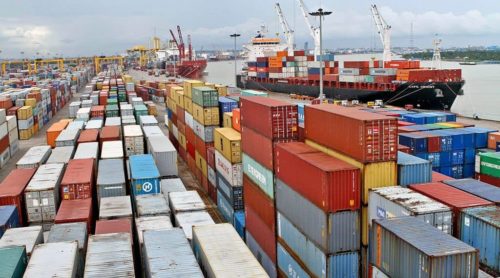 Clearing agents operating at the nation's port have lambasted the Nigeria Customs Service over a new directive which has now given the Comptroller General Strike Force unit the power to reexamine goods inside the port and make seizures where necessary without hindrance.
The new directive was contained in a circular dated 25th April, 2019 with the title,"100% Examination of Cargo At The Seaports", signed by the Deputy Comptroller General in charge of Examination, Inspection and Investigation, DCG Augustine Chidi.
The circular, a copy of which was sighted by SHIPS & PORTS directed all Area Controllers to respond accordingly to the Strike Force intervention alerts or be held responsible for non-compliance. It added that the development was as a result of the inability of the officers assigned to do 100 percent examination at the seaport to do so diligently.
Part of the circular reads, "It has been observed that 100 percent examinations of cargo at the ports are not done properly by the officers assigned to do so. Consequently, the following instructions must be carried out with immediate effect and Area Controllers will personally be held responsible for non-compliance.
"Henceforth, every Area Controller must respond accordingly to Strike Force Intervention Alerts. The Strike Force tem has been authorized henceforth to intervene right in the port and possibly make seizures where necessary without hindrance. Non-compliance to this circular would attract severe sanctions,"
But reacting to the development, the President, National Association of Government Approved Freight Forwarders (NAGAFF), Increase Uche, in a chat with SHIPS & PORTS, said the Strike Force Unit should not have anything to do with cargo clearance at the port if the automated system Customs claimed to have put in place is fully implemented.
He said rather than lay emphasis on acquiring scanners, customs is more concerned about conducting 100 percent physical examination because they are benefitting from the system.  
He said, "This is a clear indication that there is apparent system failure in the cargo clearance system. Strike Force intervention is manual so if at all the automated system is fully working, the system is enough to detect any fraud what so ever. Since they migrated to from ASYCUDA ++ to NICIS 1 and 2, there has not been any value addition, they have not really upgraded the system as to ensure that the tool for risk management is created in a way that all this non compliance will be checked.
"It does not speak well of the country when other smaller countries including Ghana and Togo are moving forward in cargo clearance, we are still at the same spot. As we speak, no single scanner is functioning at the port and they care less about it because Customs prefer manipulating the system.
"The introduction of strike force asking them to go inside the port is not healthy at all because we still have the patrol units on the roads, so why the duplication? The duplication is killing business yet they are bringing in more stringent measure that will continue to make people cut corners. When the process is simple, people will not go into vices such as cutting corners but when you make draconian laws, compliant will be very difficult. Customs is the problem of cargo clearance process so they should overhaul themselves. They have failed us because they have not proven themselves capable of monitoring our borders."