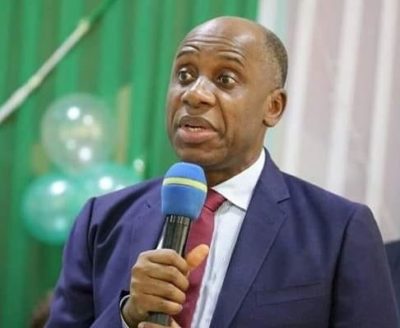 Despite a $195 million (N60 billion) maritime security contract awarded by the Federal Government to an Israeli firm, HLSI Security Systems and Technologies Limited at the instance of the Ministrer of Transportation, Mr. Rotimi Amaechi, piracy and sea robbery still reign on the nation's waters while the Nigerian Maritime Administration and Safety Agency (NIMASA) still spends US$174,000 (N53.4 million) monthly to hire security patrol vessels.
This has raised questions about the integrity and impact of the contract in Nigeria's maritime domain.
Clearly, the promises made by Amaechi with regards to the contact are nowhere near actualization.
Recall that on Monday October 31, 2017 during that year's World Maritime Day celebration in Lagos, Amaechi said the Federal Government had approved the award of the $195 million security contract to HLSI to procure security equipment and train Nigerian security personnel to tackle crimes on the nation's waterways.
"When you see the equipment on the waterways, people will know they are safe and secured. Mr President has kindly approved that, and that is being done through the Nigerian Maritime Administration and Safety Agency (NIMASA).
"In the three years, they will train our Navy, our Army and our Police so that we can stop spending money escorting boats and vessels on our waterways," Amaechi had said.
"The Israelis have assured us that after the training of our security operatives, such harassment and attacks on our waterways will not happen again. They even said we should hold them accountable if such harassment persists on our waterways after the training," he added.
However, almost two years into the implementation of the contract and with more than $100 million paid to the Israeli firm, security has not improved on the waterways. If anything, it has become worse going by recent data released by the International Maritime Bureau (IMB) Piracy Reporting Centre.
In the last quarter of 2018, more than one year after the HLSI security contract became effective, a total of 41 kidnappings were recorded in the Niger Delta region alone.
The attacks have also continued to spike this year. On January 24 and 25, some armed men attempted to attack two ships in two separate incidents off Bayelsa. A product tanker was fired upon while underway, around 35 nautical miles south of Brass on January 24, 2019 while the following day, up to seven armed pirates in a skiff chased and fired upon a bulk carrier.
On February 21, suspected armed robbers tried to board a containership owned by Singapore's Pacific International Lines (PIL) while the vessel was sailing on the high sea around Nigeria's Niger Delta region.
On March 9, according to the International Maritime Bureau (IMB) Piracy Reporting Centre, armed pirates shot dead a Nigerian Navy armed guard escorting an offshore support vessel and kidnapped five crew members from the vessel in the latest pirate attack off Brass, Bayelsa State.
On April 19, pirates struck again, kidnapping six sailors who were crew members of a Palau-flagged tanker ship at the Bonny Outer Anchorage. IMB Piracy Reporting Centre said the incident occurred when the ship, identified as the 3,100 dwt Apecus, was reportedly boarded by unauthorized persons who kidnapped the six seafarers.
Also, contrary to Amaechi's claims, HLSI is not known to have provided any equipment or craft to fight criminality on the waters.
Indeed, the Nigerian Maritime Administration and Safety Agency (NIMASA) has been spending as much as $174,000 (N53.4 million) monthly to hire patrol boats known as Fast Security Intervention Vessel (FSIV) since 2017 till date.
Documents obtained exclusively by SHIPS & PORTS reveal that the agency has been hiring the FSIV from four different companies. The companies are Peace Marine and Energy Limited (PMEL), Fairway Offshore Limited, XPO Marine Services Limited and Thamson Energy Services Limited.
The Minister and the Director-General of NIMASA, Dakuku Peterside, certainly owe Nigerians explanation on the controversial $195 million HLSI contract and the monthly $174,000 hire of security vessel.