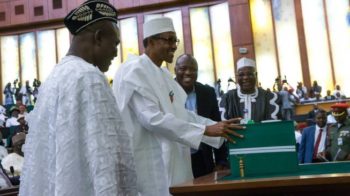 The National Assembly has passed the 2017 Appropriations Bill, raising the budget from N7.28 billion earlier proposed by President Muhammadu Buhari in December last year, to N7.44 trillion.
The Appropriations Committees of the Senate and the House of Representatives separately presented their harmonised reports of the budget for consideration and subsequent passage on Thursday.
According to the report, N434.4 billion was appropriated for statutory transfers to the National Judicial Council (N100 billion); Niger Delta Development Commission (N64.02 billion); Universal Basic Education (N95.2 billion); National Assembly (N125 billion); Public Complaints Commission (N4 billion); INEC (N45 billion); and National Human Rights Commission (N1.2 billion).
The seven establishments are to get allocations on first line charge. In practice, the spending details of these offices are not made public.
But the spokesperson for the Senate, Aliyu Abdullahi, told journalists details of the National Assembly budget are included in the whole national budget, ending eight years of secrecy.
"We have opened our budget," he said. "Details are in the (whole) budget, that's what I have come to tell you."
The National Assembly raised its budget by N10 billion, to N125 billion.
In the breakdown of the National Assembly budget released by Abdullahi, the Management, Senate and the House of Representatives are to receive N14,919,065013, 31,398,765,886 and 49,052,743,983.
Other appropriations under the National Assembly are as follows: legislative aides, 9,602,095,928; NASS Service Commission, 2,415,712,873; PAC-Senate, N118,970,215; N142,764,258; General Services, N12,584,672,079; NASS Legislative Institute, 4,373,813,596; and Service Wide Vote, 391,396,169.
The National Assembly also appropriated N2,987,550,033,436 for non-debt recurrent expenditure of the MDAs that are not under statutory transfers club.
Capital expenditure is slightly less, taking N2,177,866,775867.
For debt service, the National Assembly earmarked N1,488,002,436,547 to service domestic debts; N175,882,993,952 for foreign debts; and 177,460,296707 for sinking fund to retire maturing loans, totalling 1,841,345,727,206 for debt service.
The Clause 11 of the bill, referenced in the harmonized report, provides that the budget will run for a course of 12 months starting from the date it is assented into law, in line with relevant section of the Nigerian constitution.
In his remark, Minority Leader, Godswill Akpabio, said the 2017 budget marked the first time capital expenditure would hit 30 per cent.  
Copyright Ships & Ports Ltd. Permission to use quotations from this article is granted subject to appropriate credit given to www.shipsandports.com.ng as the source.