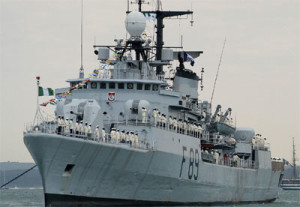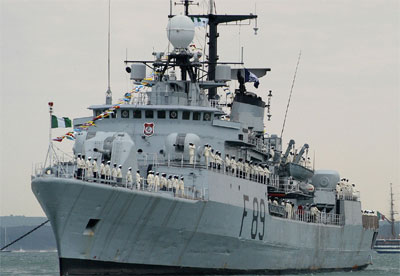 More than four hundred civilians were enthralled with the splendour of a sea cruise hosted by the Nigerian Navy as part of programmes marking its 61st founding anniversary.
The Navy opened its giant warships, NNS Centenary and NNS Unity to the viewing pleasure boarders inclusive of children and adults, sailing fifteen nautical miles away from breakwater.
On display were some techniques of combating incursion, landing and taking off moves of the Navy choppers on the ship bay, and the beautiful facilities embedded in the battleship.
The personnels employed the medium to enlighten the cross section of cruisers on its the continuous mission of policing the country's waterways against intrusive activities of resource theft, encroachment, illegal shipping and enforcement of a threat-free maritime space among other safety functions.
Receiving the tourists, the Flag Officer Commanding Western Naval Command, Rear Admiral Ferguson Bobai, enjoined them to enjoy the splendor of sea experience.
The force, however, noted that it has effectively enforced deterrence of illegal operations on the Nigerian waterways with mindful precision of its operation. The presence of its ships, the force said, has efficiently dissuaded criminal inclinations to a barest minimum.
The Western Naval Command Fleet Operation Officer, Commodore Fatai Sanusi said its control actions have been vital in boosting the confidence of maritime operator's noting the government was alive to supporting with necessary equipment.
He said the presence of the ship gives them a lot of confidence to be able to perform their duties and by extension contribute more in terms of tax to the coffers of government.
" The federal government is doing well in equipping the Navy and to put them at sea at this period require a lot of resources but we have enough trained manpower for the job."
Commanding Officer Nigerian Navy Ship Centenary, Rafiu Oladejo said the Navy has intensified deterrence efforts to in the last six months.
"We are giving civilians the opportunity to be further aware of the roles, capabilities and functions of the Nigerian Navy. The turn out is quite impressive and I could see happiness written all over everyone's faces. The roles of the Navy are basically military, diplomatic, and policing. Going on patrol, we check activities in the Nigerian maritime environment in the form of counter piracy operations, anti-illegal immigration, anti crue-oil-theft patrol, " Oladejo stated.