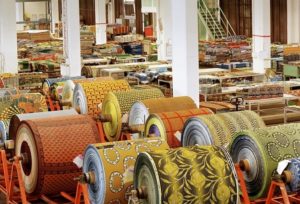 The National Union of Textile, Garment and Tailoring Workers of Nigeria (NUTGTWN) says it supports the Federal Government's threat to close land borders over the smuggling of rice and other contraband.
The Minister of Agriculture and Rural Development, Chief Audu Ogbeh, had on Monday in Abuja, said that the Federal Government might consider closure of land borders if the smuggling of rice from neigbouring countries should continue.
The Deputy General Secretary of NUTGTWN, Ismail Bello, in Lagos on Wednesday said that the union would support any effort by government to ensure that the country achieved self sufficiency.
He recalled that one of campaign manifestos of the administration two years ago was to promote self sufficiency and ensure that the country produced what the people would consume.
"If closing the border is what we need to do for the country to move forward, so be it. I know that the closure will also affect chicken and print fabrics," Bello said.
The deputy secretary said that apart from closing the border, the government should consider empowering the Customs in order for it to stop the smuggling of goods through the land borders.
"Government needs to provide customs with whatever it requires to police the border to ensure that what is agreed does not enter the country.
"Customs can be empowered through provision of logistics or with necessary administrative restructuring," Bello said.
He said that many inferior products, especially textiles, found their way into the country through the entry points -air, land and sea.
According to him, youths in the country are unemployed because factories are not functioning due to activities of smugglers and other factors.
Bello said that if the rice farms in various parts of the country were allowed to thrive and closed textile factories in Kaduna, Delta, Lagos and others reopened, unemployment would be tackled.
He said that there was need to support the government to tackle the menace of smuggling to build a sustainable agriculture base and revive the textile industry.
Copyright Ships & Ports Ltd. Permission to use quotations from this article is granted subject to appropriate credit given to www.shipsandports.com.ng as the source.