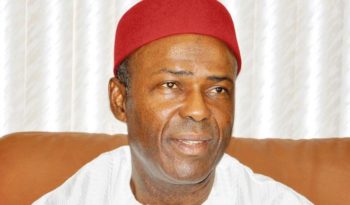 Between 2000 and 2015, Nigeria spent as much as N49 trillion on importation of raw materials and products, Science and Technology Minister Ogbonnaya Onu disclosed Wednesday .
Briefing State House reporters after the Federal Executive Council meeting, Ogbonnaya said such level of importation was no longer sustainable.
He said the Raw Materials Processing and Development Council had therefore undertaken a very important study in consultation with research institutes, countries, universities, businesses, industries and governments at all levels to determine Nigeria's "level of dependence on outside products and to find a way we can stop this."
The minister lamented that for depending on foreign commodities, the nation had "sacrificed jobs."
"For too long, our nation has depended on importation of raw materials and products and this has had very adverse effects on our economy particularly as it concerns job creation and the search for self-reliance. Nigeria is a great nation and we've abundance of natural resources in our country. It doesn't make sense that we leave what we have and import from outside.
"For example, between 2000 and 2015, Nigeria spent as much as N49 trillion importing raw materials and products. At that time, not that it was sustainable, but our economy could manage such level of importation because crude oil sold most of the time above $100 per barrel. But definitely now, such level of importation is unsustainable. We're paying a price right now because if we have depended on our own raw materials, we would have had a saving.
"But for the sharp drop in the prices of crude oil, Nigeria would have been able to withstand such a shock and we would not have had such problem that we are passing through now. So, the Federal Ministry of Science and Technology is determined to change the direction. In the past 56 years, we've depended on foreign commodities. We've relied on importation. We have sacrificed jobs. We now want to move our economy away from that into innovation an driven-economy.
"We've seen what other countries such as Canada, China, India, Japan and South Korea did. It is now very clear to us that if we move in the direction that approval was given today (Wednesday), Nigeria will be having savings in the next five years and this will be very helpful because what it means is that the abundance of natural resources can now be utilised for industrial production in the country. Then, we'll be able to give jobs to Nigerians.
"The major thrust of President Muhammadu Buhari administration is that we should be producing made-in-Nigeria goods so that those who want to work will be able to do so and this is the way to do so. Above all, as a great nation, we must work for self-reliance. We must be a self-reliant nation. Other countries have achieved it. We must be able to achieve it," Onu said.
Copyright Ships & Ports Ltd. Permission to use quotations from this article is granted subject to appropriate credit given to www.shipsandports.com.ng as the source.