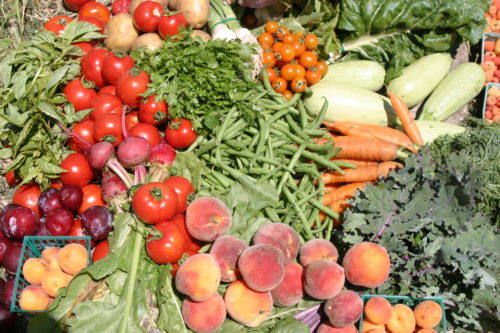 While many African countries have yet to realize the potentials in horticultural and vegetable exports, Kenya has positioned itself as a major supplier of both in the world. In 2018, Kenya exported $1.53 billion worth of flowers and vegetables to the European Union (EU).
According to the Kenya Flower Council, the Fresh Produce Exporters Association of Kenya and the Fresh Produce Consortium, Kenya earned KSh113.17 billion from flower exports as against KSh82.25 billion in 2017, KSh27.69 billion from vegetables exports, compared to KSh24.06 billion and fruits, KSh12.83 billion in 2018 as against KSh9 billion in the previous year. Officials went on to say that revenue from horticultural exports was expected to rise by nine percent in 2019.
Kenya's flower industry, which makes up a huge chunk of its horticultural exports, employs over 500,000 persons. The third largest exporter of cut flowers in the world, majority of Kenya's flowers end up in countries like the Netherlands, United Kingdom, Germany and France. The main specie of flowers cultivated for exports are roses, statice, alstromeria, gypsophilla, carnations, lilies, hypericum, arabicum, and various summer flowers and greenery.
Meanwhile in Nigeria, the export market for flowers, fruits and vegetables remains vastly unexploited. Only one known flower in Nigeria is cultivated for exports; the hibiscus. When dried, hibiscus flowers are used in the production of tea, popularly known as Zobo in Nigeria and other medicinal uses. In many developed countries, the dry hibiscus flower is processed into hot and cold herbal beverages, jellies and confectioneries, among others. It is one of the major raw materials in the global confectioneries industry.
As at 2016, the total world exports of hibiscus averaged around R25.54 billion, while imports averaged around R24.19 billion. In the period under review, USA, Germany and Japan emerged the top three importers of Hibiscus respectively, with a total market share of 30.8 percent. On the other hand, China, India and Germany respectively are top exporters of hibiscus in the world with a total market share of 50.4 percent. In Africa, Egypt is the leading exporter of hibiscus with Morocco coming second and Nigeria occupying a third place. Hibiscus export is a relatively new market for Nigeria, with Mexico, emerging its prominent destination. In 2015 however, Mexico began to improve checks on Nigerian hibiscus exports, alleging reduction in quality standards.
A huge foreign exchange earner, Nigerian in 2017, earned $35 million in nine months, from exporting a shipment of 1,983 containers of hibiscus to Mexico. Fortunately, hibiscus is a tropical plant and in Nigeria, the flower grows nearly throughout the year, with peak production during the dry season of November to April of the following year.  As at 2018, the Director-General and Chief Executive of the Nigerian-German Business Association (NGBA), Gbenga Adebija, reportedly announced the association's intention to begin the exportation of Nigerian hibiscus to the private sector in Germany.
Despite the potential, the number of major producing states in the country are less than 10; Kano, Bauchi, Katsina, Borno, Gombe and Jigawa. While cultivation of hibiscus is relatively easy, the challenge for most farmers, is the post-harvest treatment of the commodity. Being a food ingredient to many importing nations, it is imperative that dirt and impurity are not carried along with the harvest, if not properly handled. Another challenge is the issue of chemical fertilizer and pesticides use and on hibiscus plants and storage practices; a common complaint actually with most agricultural exports from Nigeria. In 2018, Mexico banned the import of hibiscus from Nigeria as a result of storage pests, detected in some consignments. The Federation of Agricultural Commodities Association of Nigeria (FACAN) President, Dr. Victor Iyama, had in the past, called for the establishment of standard sanitary and phyto-sanitary labs in the country, as well as an increase hibiscus processing. With added value on hibiscus exports, Nigeria stands to earn more foreign exchange. He said, "Trucks conveying hibiscus and other produce meant for shipping overseas, frequently spend up to 30 days on the road before they can get access into the export terminal. By the time the trucks are due to discharge their contents, the produce would have lost its quality."
The fruit and vegetables market have not fared any better. According to official statistics, Nigeria in 2013, exported goods were worth $46.32 billion, of which a paltry $3.83 billion was contributed by vegetables and fruits, to Europe and America. In 2016, vegetable exports took an upward swing when Anambra State Governor, Willy Obiano, announced that the state was the first in Nigeria to export fluted pumpkin leaves or Ugu valued at $5 million to Europe. Even with the growing interest in the international fruit and vegetable market, the yawning gap between supply and demand has yet to be closed.
According to the Agricultural Fresh Produce Growers and Exporters Association of Nigeria (AFPGEAN), Nigeria loses between 55 per cent and 72 per cent of its cultivated fresh produce (fruits and vegetables) before it can be consumed, much less exported. Executive Secretary, AFPGEAN, Akin Sawyerr, blamed the dearth of the adequate preservation facilities for the loss. In order to preserve their lifespan, fresh produce require refrigerated conditions soon after harvest but in Nigeria, very little is done in the way of processing fresh produce.
There is no storage in refrigerated conditions due to inconsistent power supply and the inefficient transportation system makes speedy movement of fruits and vegetables from farms to supermarkets, airports and seaports, difficult. Tomatoes, a staple vegetable, has Nigeria as its 16th largest producer in the world. Yet this cheering news does nothing for the national demand of 2-3 million tonnes annually, because 65 percent of tomato harvest in Nigeria are lost on the farm, during transportation, in the market and stores due to poor preservation.
In a similar vein, Nigeria is the eight producer of mangoes in the world but is nowhere ranked among the top 20 exporters. Rather Nigeria is bested in the African continent by smaller West African neighbours, such as Cameroun, Côte d'Ivoire, Ghana and Gambia. Meanwhile trade experts project a continued rise in the world demand for mangoes especially in top importing nations like the USA, Canada, EU and China.
The international market aside, Nigeria has a huge demand for mango extracts in food and drugs such as energy drinks, flavours, juice, syrup and jams. Luckily the major mango producing states are many; Benue, Jigawa, Plateau, Yobe, Kebbi, Niger, Kaduna, Kano, Bauchi, Sokoto, Adamawa, Taraba and Federal Capital Territory. Like the hibiscus and vegetable farmers, mango farmers fight a losing battle with fruit flies which causes the loss of 50 to 85 percent of mango produce.
The solution to diversifying Nigeria's oil based economy lies in its vast agricultural resources, like the hibiscus, fruit and vegetable market. Luckily the problems have been laid bare by indigent farmers anxious to make a reasonable living from agriculture. The Federal Government needs only muster the will to tackle the major problems of transport logistics, preservation and storage.
These challenges cut across two major ministries; the Ministry of Transportation and Agriculture. Now more than ever, is synergy among the many departments and parastatals under these two ministries, needed. Neglect on the part of any one relevant agency or parastatal can render useless the entire agricultural value chain. Last year, the Federal Government through the Nigeria Incentive-Based Risk Sharing System for Agricultural Lending agency (NISRAL), established the Secure Agricultural-Commodity Transport Corridor (SAT-C).
The Managing Director of NIRSAL, Abdullhameed Aliyu reportedly said the decision was informed by the urgent need to tackle the ineffective supply chain mechanism and transport system, through the creation of commodity routes that link states and have minimal interference when the goods are labeled, is expected to drastically reduce the huge losses in the agricultural sector. Although nothing has been heard concerning SAT-C since the initial announcement, it is expected that the federal government has been working behind the scenes to get the programme up and running. Unlike other agricultural exports such as cocoa, rubber, cashew and groundnut which have been exported for decades, the Nigerian fruit and vegetable export market is relatively new and as such yet to receive adequate allocation of resources from the government. This makes the need for the sensitization of fruit and vegetable farmers on how to cultivate, package and store their produce for exports, a matter of urgency.
Already Nigeria has been blacklisted by Mexico on hibiscus exports, which the Nigeria Agricultural Quarantine Agency (NAQS) is trying to resolve. Care must be taken to ensure such negative reports on our flower, fruit and vegetable exports don't become the norm. The Nigeria Customs Service (NCS) also has a huge role to play here. Fake phytosanitary certificates must not be accepted in exchange for bribes, as overlooking necessary quarantine export requirements does more harm to the nation's economy. Just as Malaysia took lessons on how to develop its oil palm sector decades ago, there is also no harm in soliciting Kenya's help in strengthening Nigeria's fruit, vegetable and hibiscus market.
Every second we delay, Nigeria runs the risk of losing the market to upcoming competitors such as Tanzania who have also signified interest in following Kenya's lead.