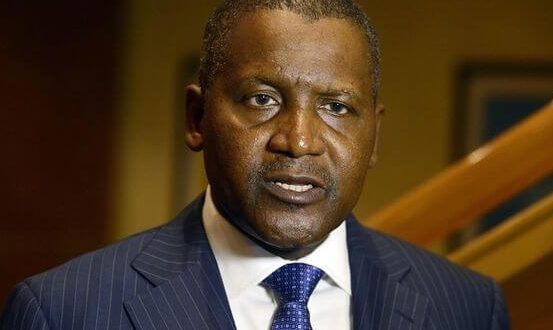 The President of Dangote Group, Alhaji Aliko Dangote, on Wednesday said Nigeria's economic diversification programme has been largely elusive, adding that it is almost running late if Nigeria failed to diversify now.
Dangote, who is Africa's richest man, disclosed this at the ongoing round table with the CBN Governor, Godwin Emefiele tagged "Going for Growth 2.0".
Apparently speaking on the impact of the sudden drop in crude oil prices on Monday, which went down to about $30 per barrel in one fell swoop, he said the time to diversify is now.
Dangote also took time to explain the economic impact of diversification and poor infrastructure.
He said, "We can diversify the economy through agriculture and manufacturing. Manufacturing creates a lot of jobs, creates middle class and transforms families. These are the areas we need to focus on. But how do you diversify into manufacturing and make it an inclusive growth? You need to do more of backward integration or import substitution.
"Our economy is great because we have a local market. The economy of Asia is focused on exports. But we have a domestic market with our about 200 million population apart from the ECOWAS market.
"Our import last year was almost $47billion. It is not sustainable. We cannot have 200 million people, growing at an average 2.7 percent and we are importing most of the things we consume.
"We need to be more serious so we don't keep talking about diversification. It has been very elusive. I don't know why. It is possible but people are not focusing on it."
Dangote also noted that the poor facilities leading to the seaports are economic drain and increase the cost of doing business.
"We need to look at cost of doing business. Cost of doing business can affect businesses. Government lost so much money last year in the traffic logjams of Apapa. Our three companies lost N30billion in profit. Which also means government will collect fewer taxes from us.
"So, we need to look at infrastructure; we need to look at power, because without power there won't be growth. That is what will propel MSMEs to grow and be everywhere and spur manufacturing.
"It is not impossible to diversify. We need low interest rates, we have achieved to some extent; we need long term funds and we need CBN support to access forex for the import of machineries.
"My heart bled when I read that the Nigerian Customs collected N1.35trillion import duties last year. It means the economy isn't working. If the economy is working, the Customs shouldn't collect that much money; it is the FIRS that should."
Copyright Ships & Ports Ltd. Permission to use quotations from this article is granted subject to appropriate credit given to www.shipsandports.com.ng as the source.