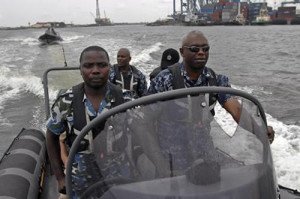 The Nigerian Navy on Friday at Masunkiri in Brass Local Government Area of Bayelsa, arrested four suspected sea pirates in the ongoing operations in the Niger Delta, tagged, Exercise Eagle Eye.
Exercise Eagle Eye, launched on Thursday in Warri is the annual sea inspection operation by the Chief of Naval Staff, aimed at enhancing maritime security in Nigerian territorial waters.
The arrest was effected by the Special Boat Service Unit of the Nigerian Navy's Forward Operation Base Formoso in Brass.
Chief of Naval Staff (CNS), Vice Admiral Ibok Ekwe Ibas, is being expected in Brass on Friday in continuation of the inspection of naval facilities in the country.
According to Capt. Mayowa Olukoya, Commander, Forward Operating Base, the sea pirates have been terrorising the waterways for a long time before luck ran out of them.
Among the weapons found on them were one pump action riffle, one AK 47 rifle, radio walkie talkie and 115 horse power outboard engine.
Olukoya said the operation followed a tip-off, which led to the arrest within seven kilometres from the base.