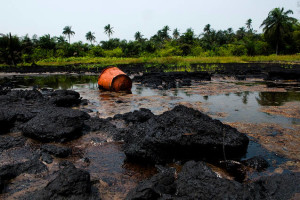 A London High Court has begun a four-day hearing over Nigeria's claims against Royal Dutch Shell and its subsidiary SPDC accused of environmental damage caused by oil pollution.
Two legal claims have been brought to the court on behalf of over 40,000 Nigerians. The Nigerian community of 2,335 people, mostly fishermen, say their environment has been devastated by oil spills in the past five years.
Another community which consists of roughly 40,000 people claim repeated oil spills from Shell's pipelines have not been cleaned up.
In 2011 the United Nations Environmental Program exposed massive levels of pollution caused by oil spills from Shell pipelines in the Ogoniland region of the Niger Delta.
Shell insists the areas have been heavily impacted by crude oil theft, pipeline sabotage, and illegal refining. According to the company, those were the primary sources of pollution across the Niger Delta.
Under Nigerian law, the company isn't required to pay compensation for spills caused by sabotage or theft. The oil major argues that only its subsidiary should be held liable and that the cases should be heard in Nigeria where the incidents took place.
Copyright Ships & Ports Ltd. Permission to use quotations from this article is granted subject to appropriate credit given to www.shipsandports.com.ng as the source.