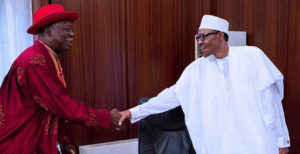 The leader of the Niger Delta Dialogue Contact Group and the first Military Governor of Rivers State, Alfred Diete-Spiff, says the Federal Government is sincere with the dialogue with leaders of the region.
Diete-Spiff,  the Amanyanabo (traditional ruler) of Twon Brass of Bayelsa State, and the Chairman of Bayelsa Council of Traditional Rulers, made this known in an interview on Saturday.
He said the Niger Delta elders and leaders expected the Federal Government to put in together a team, after which the region's leaders and the Federal Government would start discussing the details of the dialogue.
When asked about the sincerity of the Federal Government towards the peace dialogue, Diete-Spiff said, "Of course, the Federal Government has to be sincere because they have no choice in the matter.
"The Federal Government realises and appreciates what the elders are trying to do. So, it is a matter of let the tempers of agitators and the people cool down before starting the dialogue."
However, Diete-Spiff's standpoint is not the same as that of the Ijaw Youth Council Worldwide,  which said the  Federal Government was frustrating the Niger Delta dialogue not the militants.
Spokesperson for the IYC, Eric Omare, said in a telephone interview that the Federal Government had not demonstrated any sincerity and commitment to the dialogue with the Niger Delta leaders.
He mentioned that of the 16-point demands by the leaders of the region, President Muhammadu Buhari did not take any affirmative action on any one of them to enable the leaders to know what to tell their people.
The spokesperson said, "We do not agree that militants are frustrating dialogue with the Federal Government.  I think the problem with the dialogue process is that the Federal Government has not demonstrated any sincerity and commitment to dialogue with the Niger Delta people.
"For instance, the 16 point demands that was presented to President Muhammadu Buhari by the Niger Delta leaders  on November 1. Some of the demands are issues that the President can give an affirmative action on at that moment.  But the President did not show any such seriousness.
Copyright Ships & Ports Ltd. Permission to use quotations from this article is granted subject to appropriate credit given to www.shipsandports.com.ng as the source.