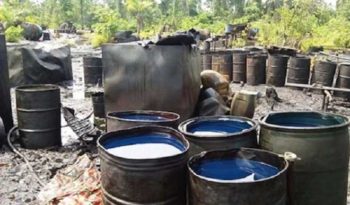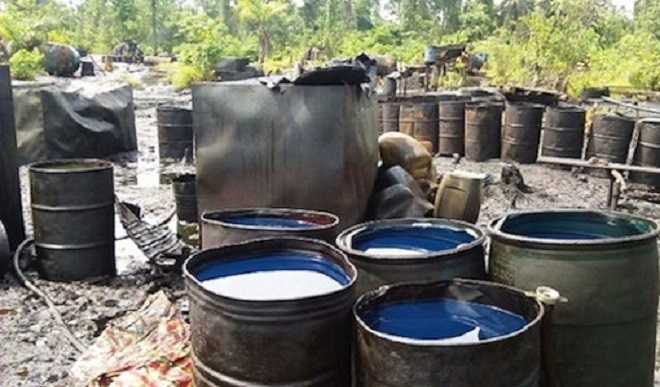 The Nigerian Navy in Port Harcourt says it has discovered a massive illegal bunkering depot which served as dump site and transit point for illegally refined petroleum products.
The depot is located opposite Liquid Bulk Company and few kilometres away from Saipem Oil and Gas Company, Masters Energy and a naval base in Rumuolumeni area of Port Harcourt.
The Commander of the Nigerian Navy Ship Pathfinder, Port Harcourt, Commodore William Kayoda, paraded 32 suspects arrested during the raid on Friday.
Kayoda said that operators of the illegal bunker site carried out their activities under the cover of the companies to deceive unsuspecting security agencies and members of the public.
He said, "During the raid, troops found over 150 Geepee tanks of 20, 000 capacities and over 300 rubber tanks all fully loaded with illegally refined diesel.
"Also, three 33,000 tanker trailers fully loaded with petroleum products believed to be stolen diesel were also impounded on the scene during the raid.
"Similarly, about 10 large wooden boats popularly known as Cotonou boats , laden with product suspected to be illegally refined diesel, were impounded."
One of the suspects who worked with the illegal depot, put the total quantity of the diesel at 5.3 million litres.
Kayoda said the raid was part of a special operation code-named "Operation White Valentine" which targeted financiers and operators of illegal refineries and illegal bunkers.
He expressed optimism that the operation which began on Feb.14 and ends on March 14, would drastically reduce attacks on oil and gas installations in the area.
According to him, the clampdown has reduced illegal refineries which have been identified to be partly responsible for current air pollution in Port Harcourt and environs.
"For a week now, we have been tracking local depots where petroleum products sourced from illegal refineries are kept for onward sell to the public.
"The operation is based on three cardinal pillars; firstly, to arrest the big wigs (financiers), behind illegal refineries and bunker sites because the sites are not run by foot soldiers (labourers).
"The second pillar is to arrest manufacturers of the wooden boats which are used to move the illegally refined products from illegal refineries to local bunkering depots and vessels.
"As we speak, there are both covert and overt operations currently ongoing to arrest the big wigs of illegal refineries and manufacturers of Cotonou boats," he said.
Kayoda assured that the navy would do everything within its mandate to stop all forms of illegalities in the nation's maritime domain.
He said the petroleum product and suspects would be handed over to the Department of Petroleum Resources and relevant security agencies for further investigation and prosecution.