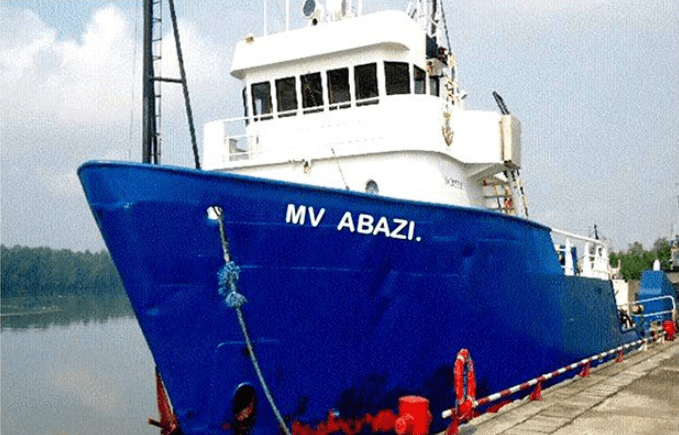 The Nigerian Navy has read the riot act to sea pirates operating within the Nigerian maritime domain, while also assuring to adhere to the rule of law while defending the nation's territorial waters.
The Commanding Officer, Nigerian Naval Forward Operating Base, Bonny, Capt. Rafiu Oladejo, said this while handing over a vessel, MV Abazi to its owners, Riverman Nigeria Limited.
Oladejo said the vessel, MV Abazi, was arrested in error, due to mistaken identity caused by the switching off of the vessel's Automatic Identification System, by the sailor.
He said MV Abazi was mistaken for another vessel, which had been flagged a vessel of interest, MT Ajazi, but after investigation, it was discovered not to be the wanted vessel, hence a directive from the Naval Headquarters for its release.
Oladejo represented by the Base Operating Officer, FOB Bonny, Lieut. Commander Eyioefe Ekah, said the vessel was intercepted and arrested while it was proceeding out of the Bonny channel by one of its routine patrol vessels, NNS Kyanwa.
"There had been a vessel of interest, one MT Ajazi however, as at the time of interception, somebody had identified MV Abazi as MT Ajazi due to the similarity in their names.
"However, as at the time of interception, MV Abazi's AIS was off. Any vessel which AIS is off violates maritime regulations because at all times, while your vessel is on the way your AIS is supposed to be on. So, at the time of interception, the vessel's AIS was off.
"So when we arrested the vessel we turned on its AIS and we identified the vessel as MV Abazi, not MT Ajazi. So, an investigation was conducted and a report was written and sent to the Naval Headquarters.
"The Naval Headquarters having found that MV Abazi was not culpable of any maritime offences, directed that the vessel be released to its owner, which we have done today."
Receiving the vessel, the general manager of Riverman Nigeria Limited, Gbenga Olayinka, said the vessel was mistakenly arrested a month ago, while going to supply items to an oil rig.
"It's over a month now since the vessel was seized and it has been a month of pain and tension.
"It was a company vessel going to the rig to supply some items and was mistakenly arrested because the AIS was not being transmitted. It was just an issue of mistaken identity, we were mistaken for another vessel and we were held."