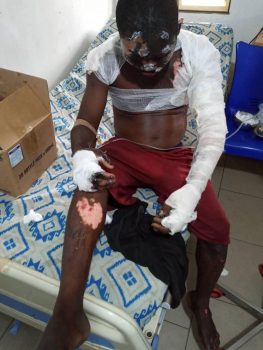 The Nigerian Navy in Lagos on Tuesday said it rescued three Beninoise after their fishing vessel caught fire at the Lagos anchorage.
Flag Officer Commanding, Western Naval Command, Rear Admiral Oladele Daji, told SHIPS & PORTS that the crew were rescued by the Nigerian Navy Ship (NNS) BINI after a distress call was sent out at past midnight on April 21.
According to him, on arrival at the scene, the fishing boat was completely engulfed by fire with one of crew member, Yoes Senovou, severely burnt in the incident.
He said the crew members who could not communicate in English were given first aid at the naval base where they were stabilized while Senovou was taken to the Nigerian Navy Reference Hospital, Ojo, for treatment. 
He said, "NNS BINI while on routine patrol responded to a distress call from a boat with call sign SPORT TAIL shortly after midnight on 21 April 2020 within the Lagos Anchorage Area.
"On arrival at the scene, a fishing boat was completely engulfed by fire. Three crew members, all Beninoise nationals, were rescued from the water and handed over to NNS Beecroft. They were given first aids at the Naval Base and stabilized. However, one of the rescued crew member, Mr. Yoes Senovou was badly burnt in the fire incident. He was promptly taken to the Nigerian Navy Reference Hospital, Ojo, where he was treated.
"It was not immediately clear why they were fishing in Nigeria waters, if indeed they were truly fishing. Although none of the crew members could communicate in English, they gestured that they had machinery failure and drifted into Nigerian waters."
Daji said efforts are ongoing to hand over the rescued persons to the Benin Republic Consulate in Lagos, if they are not implicated in any criminal activity.