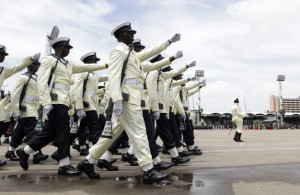 The Nigerian Navy has appealed to the National Assembly to initiate Laws that would enable the Navy to prosecute arrested criminals, instead of handing over the suspects to sister security agencies.
Rear Adm. Victor Adedipe, Flag Officer Commanding (FOC) Eastern Naval Command, made the appeal when members of the House of Representatives Committee on Navy paid an oversight visit to headquarters of the Command on Tuesday in Calabar.
Chief of the Naval Staff, Vice Admiral Ibok Ette- Ibas, ( 4th right ) and other senior naval officers at the end of his tour of commands under the Western Naval Command of the Nigerian Navy.
Adedipe lamented that a lot of criminals that had been arrested and handed over to sister security agencies for prosecutions, had found their way back to the maritime domain, committing the same crimes.
According to him, it is time the National Assembly initiates laws that will give the Nigerian Navy the legal backing to prosecute arrested criminals.
"We arrest and destroy illegal refineries on daily basis. Each time we make arrest and handover these suspects to other security agencies, you will be shocked to hear that they have been released on bail.
"We are appealing to the National Assembly to give us the constitutional right to arrest and prosecute some of these criminals arrested by our men in illegal act," he said.
The Command's Administrative Officer, Commodore Promise Dappa, who presented the score card of the command's 2017 achievement and challenges, observed that a lot of cases handed over to security agencies were handled with levity.
According to Dappa, security agencies that have the constitutional powers to prosecute are more interested in the prosecution of criminals that they arrested themselves.
"We have a weak legal framework. We cannot prosecute criminal that we arrested. We hand them over to security agencies that have the constitutional powers to prosecute.
" These security agencies are more concerned with the arrest that they make. Most times, due diligence are not followed.
"In the long run, the suspected criminals regain freedom and find their way back to the sea to continue with their criminal activities.
"The National Assembly should empower the Navy to prosecute its own cases. If there is legislation to enable us to prosecute, the Navy will remain on top of the situation by ensuring that due diligence is followed," he said.
Dappa also disclosed that in the last six months, 65 persons were arrested for illegal bunkering, while 20 vessels, 11 barges and 66 wooden boats were seized.
He further said that over 500 illegal refineries had been destroyed and over 20, 000 metric tons of crude oil and 20, 000 metric tons of illegally refined product were seized from oil thieves.Abdussamad Dasuki, Chairman, House Committee on Navy, said that the National Assembly was looking at other areas of funding to make the Nigerian Navy a better force.
Dasuki said that in the next couple of months, the `Maritime Security and Anti-Piracy' bill would be passed to give the Navy a lot of resources to deal with infrastructure deficit.
"The bill has passed first and second readings and the public hearing and will soon be passed. The Navy has to be empowered for a better economy.
"Without your sacrifices, the nation will not be where it is today," he said.
Copyright Ships & Ports Ltd. Permission to use quotations from this article is granted subject to appropriate credit given to www.shipsandports.com.ng as the source.