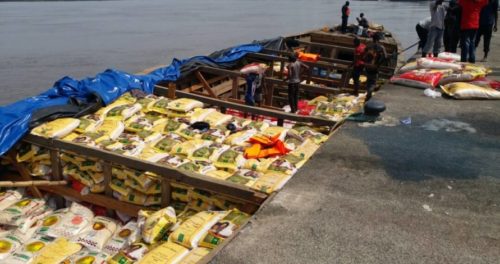 The Nigerian Navy in Akwa Ibom State has seized four boats and arrested 12 suspects and seized 742 bags of contraband rice from them in four different operations.
The first set of arrest was of five suspects and 339 bags of 50kg rice, the second set also had five suspects and 301 bags of 50kg rice, while the third and fourth arrests had one suspect each, 41 and 43 bags of 50kg rice respectively.
Other items seized from the suspects between May 1 and 3, 2019, include two wooden boats, two fibre boats, four outboard engines and four pumping machines.
Commanding Officer, Forward Operating Base, Captain Toritseju Vincent, who disclosed this on Monday while handing over the seized items and suspects to the officials of Nigeria
Customs Service (NCS) in Ibaka, Mbo Local Government Area of the state, assured that the Nigerian Navy would remain committed to its assigned role in checking illegalities on the waterways.
Two of the suspects, Edet Okon and his 17-year-old nephew, Raphael Edem, said they were only passengers on the boat when it was apprehended and were not part of the smugglers.
Okon said, "I don't know what is happening here. I boarded a boat in Cameroon to come and visit my sick sister and then I saw myself here. I don't know the boat was carrying rice because I was in a rush to come down to Nigeria. I have been in Cameroon for three years."
Edem, on his part said, "I have been living in Cameroon with my uncle for three years now. When my uncle told me my mum was sick, I boarded the boat to come to Nigeria but I did not know the boat was carrying rice, and I don't know any of the people in the boat with me except my uncle, who I came with".