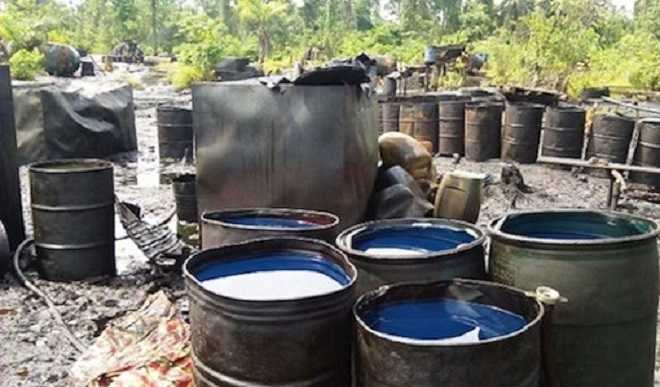 The Eastern Naval Command of the Nigerian Navy in Calabar has shut down over 150 illegal refineries through swamp buggy operations in its area of responsibility, which includes Akwa Ibom, Cross River and Rivers State, in the last seven months.
Former Flag Officer Commanding (FOC) of the Command, Rear Admiral Mathew Emuekpere, who made this known while handing over to his successor, Rear Admiral David Adeniran, in Calabar on Tuesday also said within the period through their anti-smuggling operations, the Command had seized 13, 803 bags of imported rice valued at the sum of over N220 million at N16, 000 per bag among several other contrabands.
He said with the reduction of smuggling activities, the Command has been able to support President Muhammadu Buhari's efforts in revamping the economy and enhancing the activities of local farmers.
Emuekpere, said during this time, which he served as the FOC, having taken over the Command in January this year, over 90 suspects have been arrested with their vessels and barges for various martime crimes.
He thanked Navy personnel and other sister security agenies and paramilitary organziations and civilans that contributed to the successes recorded during his stay as the FOC of the Command and urged that the same support be extended to his successor.
He also expressed gratitude to President Muhammadu Buhari, and the Chief of the Naval Staff, Vice Admiral Ibok-Ette Ekwe Ibas, for giving him the opportunity to serve as the Flag Officer Commanding of the Eastern Naval Command in the past seven months.
The new FOC, Rear Admiral David Adeniran, promised to complete all ongoing projects in the Command. 
He warned that any form of collusion or abetting illegalities would not be tolerated.
He urged all Navy personnel to support him and promised to work with other security agencies to check criminality.
"Our purpose is to fight all forms of illegalities and ensure that our maritime environment is safe for legal business. We cannot do it alone but would collaborate with other security agencies. We also urge our host communities to help us succeed, so we can also assist them in any way we can. We would work with all stakeholders for the benefit of all. We encourage those involved in illegalities to change and work for a better Nigeria," Adeniran said.  
Copyright Ships & Ports Ltd. Permission to use quotations from this article is granted subject to appropriate credit given to www.shipsandports.com.ng as the source.