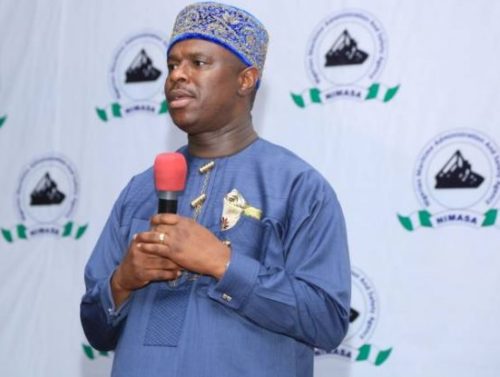 Director General, Nigerian Maritime Administration and Safety Agency (NIMASA), Dakuku Peterside, has called for synergy between the Local Content Act 2010 and the Coastal and Inland Shipping (Cabotage) Act 2003 for effective shipping logistics in the country.
Peterside, made the call on Tuesday at a one-day seminar on "Local Content Development in Shipping, Oil and Gas Logistics Operations in Nigeria," held in Lagos.
The NIMASA Director General, who was represented by the Assistant Director, Shipping Development, Anna Akpan, said shipping had always been of strategic importance to the oil and gas industry.
According to him, synergy between the two governing acts of the maritime sector would ensure the smooth transportation of over 70 per cent of all crude oil production by ship and boost the economy.
"More oil production activities are being carried out offshore. This shows that the oil industry relies heavily on maritime industry for its smooth operations.
"In Nigeria, the maritime industry shares not only common business interests with the oil and gas sector but also common challenges.
"The most pronounced of these challenges is foreign domination. In spite of the huge revenue generated by these two industries, their impact in terms of employment and generation of economic growth had been so low.
"The oil and gas sector accounts for almost 90 per cent of the foreign earnings but contributes less than 20 per cent to Gross Domestic Product and five per cent of total employment which is a misnomer," Peterside said.
He said statistics indicated that the country generated an estimated annual cargo throughput of N150 million tons with freight earnings in excess of five billion dollars in international trade transactions.
Peterside said 95 per cent of the income was earned by foreigners with the job deprivation to the country.
He said it was necessary for the two implementing agencies to identify areas of national interests and design a strategy for an effective implementation of the act.
NIMASA, according to him, had examined the provisions of the Local Content Act and came up with its implementation within the ambit of the Cabotage law.
Corporate Communication and Zonal Coordinator, Nigerian Content Development and Monitoring Board (NCDMB), Ginah Ginah, said many pipelines were built over 50 years ago that need to be replaced as a matter of urgency.
According to him, the NCDMB had handed over N200 billion to the Bank of Industry to enable indigenous operators to access loan at 8 per cent interest.
"We have trained 500,000 Nigerians on Local Content developments but there was no vacancy to enable them to operate.
"There is need to improve low functional steel sector to solve the immediate problem of the oil and gas sector in the country," Ginah said.