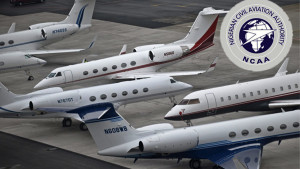 The management of the Nigerian Civil Aviation Authority (NCAA) has initiated moves to resolve its dispute with the National Union of Air Transport Employees (NUATE), over staff welfare issues.
General Manager, Public Relations, NCAA,  Sam Adurogboye, confirmed the development in Lagos on Friday.
Adurogboye said that the management had received a letter from the union which gave the NCAA a one-week ultimatum to issue promotion letters to its entire staff that passed its last promotion examinations.
"I can confirm that the management has received a letter to that effect and it is being studied with a view to engaging the union and to respond as appropriate,'' he said.
NUATE's General Secretary, Olayinka Abioye, had issued the ultimatum in a letter addressed to the Director-General of NCAA, Capt. Muhtar Usman, on Thursday.
Abioye warned that the operations of the regulatory agency would be grounded nationwide if the union's demand was not acceded to by the NCAA management.
He said the letter was informed by humongous complaints, agitations, expressed frustrations and death arising from the recently released promotion letters to members of staff of the authority.
Abioye said: "Bearing in mind that peace of mind of the worker translates to industrial peace in the workplace, we are compelled to draw the attention of management to the `unwholesome and unacceptable outcome' of the last promotion exercise.
"The exercise has left several suitably qualified members of staff out of being promoted, in spite of the fact that they qualified to be invited to such promotion exercise, sat for same and passed their relevant examinations and other ancillary criteria there to.''
According to him, after due consultations and in-depth investigations, the union is highly disappointed and shocked by the processes adopted by the management in carrying out the promotion exercise.
According to him, few are promoted out of the meritorious lot that ought to have benefited.
He said this had created unnecessary panic, mental agonies and anxiety within the NCAA, hence the letter was aimed at getting deserved attention.
He called for an urgent positive review of the exercise, in the collective interest of all parties.
Abioye noted that a disgruntled worker was an accident waiting to happen, especially with the consideration of the critical role of the NCAA in the aviation industry.
"By this letter, we immediately demand within one week of receiving this letter, for the release of promotion letters to all members of staff who passed the last promotion examinations, irrespective of their status.
"We may not be able to guarantee industrial peace in all the regions of the NCAA should your management fail to adhere to this simple task,'' he added.