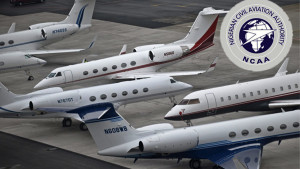 The Consumer Protection Unit of the Nigerian Civil Aviation Authority (NCAA) in a report released on Wednesday said domestic airlines operating in Nigeria delayed an average 89 flights daily between July and September 2017.
This signifies that at least three flights were delayed every hour by domestic airlines every day for those three months.
According to the report, the airlines recorded 8,173 cases of delayed flights between July and September this year.
The report showed that 13,255 flights were operated by eight airlines during the period with 96 flights cancelled by the airlines for various reasons.
It listed the airlines involved in the flight operations as Aero Contractors, Arik Air, Air Peace, Azman Air, Dana Air, First Nation, Med-View and Overland Airways.
The report said that Air Peace, which operated 3,811 flights, topped the chart of delayed flights with 2,166 and five cancelled flights.
According to the report, Arik Air follows with 2,057 delayed flights and 32 cancellations out of its 3,285 flight services in the period.
The report said that Dana Air operated 1,762 flights with 1,079 cases of delayed flights and five cancellations.
Med-View Airline recorded 986 and seven delayed and cancelled flights, respectively out of the 1,394 flights operated by the airline during the period.
Azman Air operated 1,127 flights with 712 delayed and 16 cancellations, while Overland operated 542 flights with 391 delayed and seven cancellations.
First Nation Airways had 239 flights with 98 delayed and three cancellations.
The airlines blamed the delays and cancellations on operational reasons, high cost of aviation fuel and inadequate navigational aids at many airports in the country.   
Copyright Ships & Ports Ltd. Permission to use quotations from this article is granted subject to appropriate credit given to www.shipsandports.com.ng as the source.