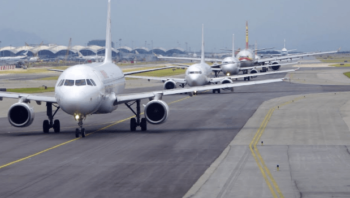 The Airline Operators of Nigeria, AON, has said that the Nigerian Civil Aviation Authority, NCAA, is pushing the nation's domestic airlines to the edge of insolvency.
The Chairman, AON, Nogie Meggison, said this while speaking with journalists in Lagos.
While reacting to the recent ultimatum issued to the domestic airlines to automate their payment systems, Meggison accused the NCAA of discriminating against the domestic airlines because foreign airlines were not mandated to join the automation platform.
"It is apparent that NCAA is preying on domestic airlines, which they see as an easy target, a cash cow and for cheap publicity," the AON boss said.
"They are over-regulating domestic operators and pushing domestic airlines to the edge of insolvency and bankruptcy.
"It is these kinds of policies that have reduced the lifespan of Nigerian airlines and consumed over 25 airlines in the last 30 years since deregulation in 1982,"he added.
Meggison, therefore, called for the suspension of the automation of revenue remittance, adding that the process should be put on hold until the parameters which constitute the statutory five per cent Ticket and Cargo Sales Charge (TSC/CSC) are clearly and properly defined.
The News Agency of Nigeria reports that the AOB chief also alleged that the ultimatum was given in `bad faith' because the issues surrounding it had yet to be resolved.
"AON has no problem with the NCAA going ahead to automate the collection and remittance of the said charges. However, the NCAA needs to give clarification on what constitutes the five per cent ticket and cargo sales charge," he said.
"The five per cent TSC is only applicable on base fare, in compliance with industry practice and as currently applicable to international carriers operating out of Nigeria," Meggison added.
According to him, AON members are currently remitting the charges and it is on record that the NCAA introduced financial clearance process for services over the last few years.
He said despite the tax burden on airlines, the infrastructure and service level continue to deteriorate across all facets of the industry, under the same authority.
The AON president, however, appealed to the NCAA to focus its energy on being an enabler and to foster growth in the Nigerian aviation industry, in line with its mandate.
He added that while airlines in other West African countries operate 24 hours, Nigerian carriers are subjected to daylight operations only till 6:30 p.m. in most of the nation's airports.
"Yet the West African charges are almost a fraction of Nigeria's domestic billing," the AON chief said.
"Sadly also, Nigerian airlines are the only mode of transport paying the Value Added Tax (VAT).
"Marine, road and rail transport don't pay, and even the foreign airlines operating into Nigeria are exempted from paying VAT in Nigeria and their home base."
Copyright Ships & Ports Ltd. Permission to use quotations from this article is granted subject to appropriate credit given to www.shipsandports.com.ng as the source.