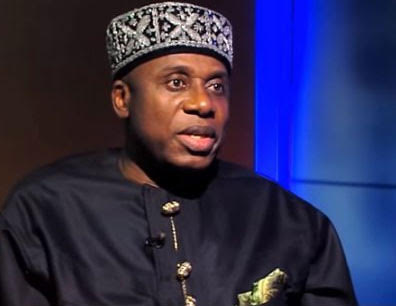 The Minister of Transport, Rotimi Amaechi, has admonished himself and his colleagues in the Muhammadu Buhari administration to stop blaming former President Goodluck Jonathan for the problems facing the country. 
Amaechi is an unrepentant critic of the former president. Amaechi has, at various times, blamed Jonathan for the rot in the Nigerian Maritime Administration and Safety Agency (NIMASA), underdevelopment of the rail system and mismanagement of funds in the construction of the Maritime University in Delta State. 
In June, Amaechi slammed Jonathan for allegedly failing the Igbo during his years, saying the former president left the region in a state of disrepair.
"President Jonathan went to Onitsha and danced and promised to construct Onitsha bridge. Right? After that nothing happened," Amaechi said at a social media forum in Lagos on June 13.
But Amaechi now says it is time for the officials of President Buhari's administration to concentrate on delivering good policies to the citizens rather than heaping blames on the former president for Nigeria's woes.
"I agree with those who said we should stop criticising the last government and that we should do our own," Amaechi was quoted as saying during a meeting at his office Tuesday.
The minister decried Nigeria's infrastructure deficit, drawing a comparison with other relatively new countries like Singapore.
"We need to leverage on what we know. People are shouting intermodal transport; I went to the new airport in Singapore and I didn't find one person at the airport.
"As you walk in, technology takes over," Amaechi said.
He called for an urgent renaissance in Nigeria's infrastructure, especially in the area of information and communications technology.
"They also said in the next few years, they would introduce driverless cars. We should also think outside the box about how to improve our transport sector and think less about how sun and moon affect the sector or building more bus stops.
"We should see how much investment we can put in the area of ICT. Intelligence transportation should not be ignored," he added.
If heeded, Amaechi's call would mark a shift in Buhari administration's approach to public engagement.
Since assuming office in 2015, President Buhari has led his appointees and party members to blame Jonathan for failing to properly direct the country's affairs during his tenure. 
Copyright Ships & Ports Ltd. Permission to use quotations from this article is granted subject to appropriate credit given to www.shipsandports.com.ng as the source.