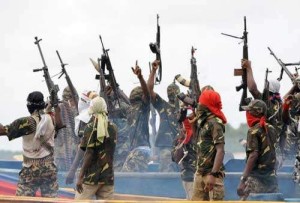 The Chairman of Niger Delta Development Commission (NDDC) , Senator Victor Ndoma-Egba has called on Niger Delta militants to stop oil facilities vandalisation as to give way for the development of the region.
The Chairman of NDDC Governing Board commended President Muhammadu Buhari for his determination to develop the Niger Delta region.
Ndoma-Egba who spoke during the inaugural meeting of the Board at the Commission's headquarters on Thursday in Port Harcourt cited the increase in the budgets of the Ministry of Niger Delta Affairs, the NDDC and the Amnesty Programme, the new urgency for the completion of the East – West Road, the East – West Rail line, the Ogoni Cleanup, as well as the recent dialogue with leaders from the region as President's Buhari's goodwill and good faith towards the region.
Senator Ndoma-Egba expressed hope that the good intentions of President Buhari will be fully established if the enabling environment would be created in the region, and called on "all the militant groups to stop the breaches and vandalisation of oil facilities."
"Their point has long been made," he said. "Now they are inflicting injuries and suffering on themselves and our already hapless and helpless people. They should give us a chance to develop."
The NDDC Chairman stated that development cannot occur without peace and security and called for collective action to ensure a more peaceful and secure region.
He said, "We cannot complain about environmental pollution and degradation in the region and at the same time engage in activities like pipeline vandalisation and breaches that not only pollute the environment, but also shield those who should bear responsibility for the sorry state of our environment from liability.
"All of us from the region must take responsibility for peace and security in our own interest and in the interest of generations to come. All of us must be committed to the peace, security and prosperity of our region. It is our duty."
Copyright Ships & Ports Ltd. Permission to use quotations from this article is granted subject to appropriate credit given to www.shipsandports.com.ng as the source.