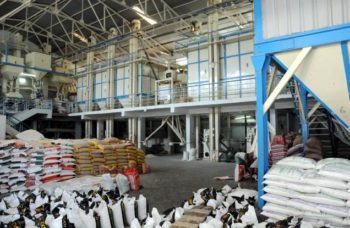 The Federal Government has commended the Niger Delta Development Commission (NDDC), over the completion of rice mill in Elele-Alimini, Emuoha Local Government Area of Rivers.
The Minister of State for Agriculture, Heineken Lokpobiri, made the commendation during a meeting with NDDC and the Elephant Group in Port Harcourt on Monday.
He expressed optimism that the mill would ensure food sufficiency in the country in addition to creating thousands of jobs for youths in the Niger Delta region.
According to him, the rice mill project is part of the Federal Government's drive to ensure food security and end rice importation within the shortest possible time.
Lokpobiri said before the Buhari-led administration took office, the Federal Government spent five million dollars daily on rice importation to the country and NDDC has over the years started building a rice mill which has not been put to use.
He explained that the government embarked on the project because the region had potential to grow rice in commercial quantity even without fertiliser.
He said the Federal Government wants to make the nation to be self- sufficient in rice production at least by the year 2018.
He called on state governments and stakeholders to key into the Federal Government's drive to ensure rice sufficiency in the country.
The Managing Director of NDDC, Nsima Ekere, said that the commission spent N1.5 billion on the rice mills in Rivers and Akwa Ibom states.
He said that facilities, completed 10 years ago, were left to rot by previous governing boards and management of the commission.
"When we came on board; we couldn't come to terms that despite spending huge sums of money building large mills in Akwa Ibom, Lagos and Rivers the projects were not put to use.
"In-line with the present administration's zero tolerance to wastages, inefficiency and corruption we decided to work with the Minister of State for Agriculture to revive the facilities.
"The rice mill would benefit the people of Niger Delta and country at large and add to the new Niger Delta initiative without oil," he said.
Ekere said the facility which would soon commence operation would make rice cheap and available to the masses and has capacity to process 180 tonnes of rice daily; an equivalent of 3,600 bags of 50kg.