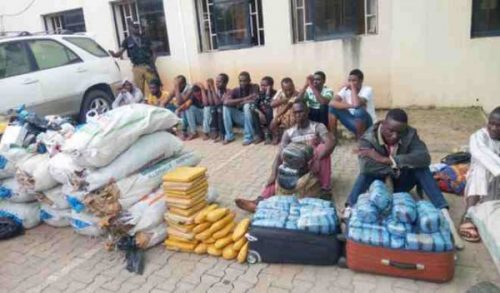 The National Drug Law Enforcement Agency (NDLEA) on Wednesday said it arrested 45 suspects in drug-related offences within six months at the Muritala Mohammed International Airport (MMIA) in Lagos. 
Speaking exclusively with SHIPS & PORTS, the Commandant, Garba Ahmadu said the 45 suspects, which comprise 38 males and 7 females, were arrested from January to June 2019.
Ahmadu also said that te command made a total of 37 seizures from within the same period.
He said, "Cannabis sativa, popularly known as Indian hemp had the highest drug seized weighing 75.440kg, followed by methamphetamine – 46.660kg, ephedrine – 28.140kg, cocaine – 15.580kg and heroin – 14.720kg."
Ahmadu also said that 27 suspects were arrested for attempting to convey drugs to other countries through the airport. 
"A total of 27 suspects made effort to convey drugs from Lagos to other countries, out of which seven suspects were arrested on their way to the United Arab Emirates (UAE), five suspects on their way to the United Kingdom and others on their way to Thailand and Indonesia.
"A total of nine suspects were arrested within the period under review drug-related offences.
"Six suspects were arrested in conveying drugs from Johannesburg, South Africa to Lagos. Others were from Canada, Mozambique and Pakistan," the NDLEA chief added.