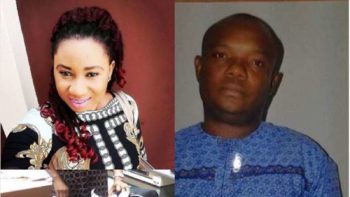 Officials of the National Drug Law Enforcement Agency (NDLEA) at the Nnamdi Azikiwe International Airport (NAIA) have arrested a female graduate and a secondary school dropout with illicit drugs. 
This was disclosed in a statement signed by Jonah Achem, NDLEA Principal Staff Officer, Public Affairs.
The agency also said drug couriers prefer to fly Ethiopian Airlines. The suspects arrested are Harriet Bolatito Solabi, 34-year old Higher National Diploma holder, and Victor Chukwu, a school dropout.
Solabi, said the statement, was nabbed on board an Ethiopian Airways aircraft that was set to depart the country with 3.9 kilogrammes of ephedrine and 1.6 kilogrammes of methamphetamine. The statement added that the NDLEA has resolved to henceforth prevent any airline from taking off on grounds of reasonable suspicion for illicit drugs. 
Solabi, explained the NDLEA, was recalled after she had checked in two big bags she claimed to be filled with personal effects and had boarded the flight No.910 to Addis Ababa while awaiting take-off. The drugs were concealed in the false bottom of the bags.
The suspicion made the anti-narcotics agency to hold down the aircraft from take-off until all the personal effects of Solabi were evacuated for investigation purposes.
After her arrest, she feigned ignorance of the content of the bags, which she said she was requested by her contact in Pretoria, South Africa to collect from an unknown person in Lagos. She also said she had arrived Abuja from Lagos on a local flight for an onward flight to Johannesburg.
The NDLEA found that she had travelled to South Africa numerous times without hitches until she was arrested in Abuja.
Solabi, a single mother of a 10-year old daughter, attended Moshood Abiola Polytechnic, Abeokuta. During the investigation, she told the NDLEA that she trades in fabrics, which she goes to bring from South Africa to bring to Nigeria and distribute to her customers.
The second suspect, Chukwu, 44, was also arrested with 59 wraps of heroin weighing 865 grammes, which he had ingested. He told the NDLEA that a black woman met him in a restaurant in Malawi and talked him into bringing the illicit substance to Nigeria.
He claimed he was to call her upon arrival in Nigeria for her to direct the recipient to him. He admitted knowing that he was handed an illicit substance but agreed to be a mule because of poverty. 
"Under my condition, I have to do anything that comes my way to survive. I hail from Ata-Orlu, Imo State and I am married with a child," said Chukwu.
Lawan Hamisu, NDLEA Commander at Nnamdi Azikiwe International Airport, said that recent seizures by the command have shown that the South and East African routes are becoming more attractive to West African drug trafficking organizations, with Malawi, Kenya, and Tanzania as prominent heroine transit points from Pakistan to Nigeria.
The agency also disclosed that drug couriers prefer Ethiopian Airlines.
"NDLEA at the Abuja Airport has in the last three months intercepted 26 kilogrammes of illicit drugs consisting of cocaine, heroin, methamphetamine and ephedrine through Ethiopian Airlines alone, with almost 50 per cent of the seizures going to South Africa," said the agency.