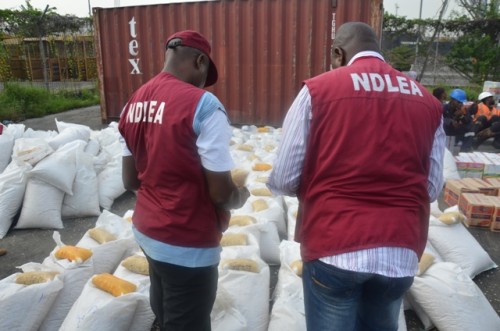 The National Drug Law Enforcement Agency (NDLEA) has called on industry stakeholders to support inter-agency collaboration, synergy, sharing of intelligence and information to dismantle drug smuggling networks in the port community.
Director of NDLEA's Seaport Operation, Omolade Faboyede, made the call on Friday in a message to mark the 2020 International Day against Drug Abuse and Illicit Trafficking.
The United Nations has set aside June 26 every year to mark the International Day against Drug Abuse and Illicit Trafficking. The theme for this year's celebration is "Better Knowledge for Better Care,"
Faboyede said Nigeria must have the political will to tackle the issue of drug trafficking and the supervising agency must be strengthened and adequately funded to combat drug abuse and trafficking in the country.
Noting that 90 percent of goods are transported globally by sea and constantly changing trading patterns between emerging and developing countries create new opportunities to shift such goods, Faboyede said since mid-2000, West Africa has emerged a transit point for trafficking of cocaine from South America to Europe.
The NDLEA Director noted that recent drug trafficking has witnessed a massive movement of Cannabis Sativa from Ghana to Nigerian waters at an alarming rate.
She said illicit drugs are often transported via indirect routes as main routes become better policed; traffickers select countries with weak enforcement or corruptible officers.
According to her, the United Nations Office on Drugs and Crime estimated that $1.25 billion worth of cocaine passed through the region in 2010 alone, calling on maritime stakeholders to educate their workers and seafarers about the dangers of drug abuse.
"Drugs are usually concealed in bulk cargoes, containers, cargo of cars, freight vehicles, trailers or coaches, ship hulls and speed boats. Smuggling of drugs is possible through vessels without the knowledge of the crew. It is also possible that port staff may be involved.
"The trafficking of narcotic drugs by sea has virtually become an industry comprising many individual enterprises of varying size and organization. It is an attraction for major international criminal organizations and terrorists.
"The International day celebration is not only to educate on public issues of concern but to mobilize political will and resources to address and to celebrate the reinforced achievements of humanity.
"The theme for this year's celebration is "Better Knowledge for Better care" thus the need to improve the understanding of the world drug problem and foster greater international cooperation for countering its impact on health, governance and security.
"There are 200million illicit drug users worldwide and the number continues to grow every day. Around 190,000 people die due to illicit drugs every year. Drug trafficking is a threat to human life, national development and security. Commonly trafficked drugs include cocaine, heroin, morphine, cannabis sativa and crystal methamphetamine.
"Drug trafficking through the sea has been a security problem for all countries of the region because it involves the movement of large quantities of drugs. Drugs are chemicals that affect the body and brain. Some effects of drugs include health consequences that are long lasting and permanent.
"They can continue after a person has stopped using drugs. Drugs can eventually change how the brain works and interfere with a person's ability to make choices, leading to intense cravings and compulsive drug use," she said.
In his goodwill message, Founder, National Association of Government Approved Freight Forwarders (NAGAFF), Dr. Boniface Aniebonam, urged NDLEA to step up its anti-illicit drug use education to bring the message closer to Nigerians.