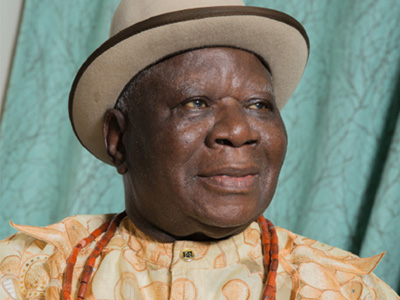 A new militant group, Niger Delta Greenland Justice Mandate (NDGJM) has rejected the Chief Edwin Clark-led negotiation team on behalf of militants in the region with the Federal government, for lack of trust.
A statement issued on Monday by the spokesperson of the group, Aldo Agbalaja, accused Clerk and ex-president Goodluck Jonathan of humiliating the region more than previous administrations had done.
The group which restated its resolve to continue vandalising the oil pipelines in the country until the Buhari-led federal government meets their demands, however called on the government to rather negotiate with them through another dialogue group, NDDCG which has a touch of international agencies.
"We are also aware that there is a group, NDDCG, led by the Amanyanabo of Twon Brass, Alfred Diete-Spiff, which has the involvement of some international agencies, we would rather the federal government builds on this group to reach out to the genuine representatives of the peoples of the region, across the six states, to discuss the way forward because we believe what is worth doing at all is worth doing well.
"Build on this group and reach out to our people, not on an Edwin Clark group, which had connived with Jonathan in the past to subject this region, including the majority of our Ijaw brothers, to one of the most untold humiliations by leaving the region they claimed to be representing worse than it was under previous administrations.
"Enough of these buccaneers in the name of leaders of the region, our people from both the upland and the creeks deserve a better deal, not the Avengers kind of deal. We are serving a notice that the Niger Delta Greenland Justice Mandate is still carrying on with this campaign against Nigeria's oil and gas interest until the federal government does right."