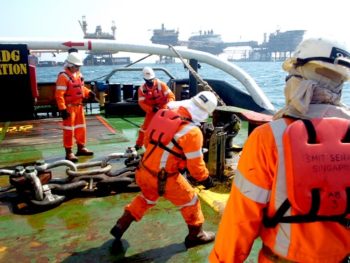 By Jite Eriabie 
Public authorities are no longer allowed to refuse shore access to a ship's crew based on discriminating factors such as race, religion, and nationality, under a new provision to a global treaty which aims to achieve the smooth transit of ships, cargo and passengers while in port.
As of January 1, 2018, seafarers across the globe gained additional rights when it comes to shore leave through an amendment entering into force under the International Maritime Organization Convention on Facilitation of International Maritime Traffic (FAL Convention).
The new amendment builds on the requirement to allow crew ashore while the ship they are on is in port by preventing local immigration officials from refusing shore access on the grounds of nationality, race, color, sex, religion, political opinion, or social origin of crew members.
In addition, the amendment says that shore leave should be granted, irrespective of the flag State of the ship. If any request is turned down, the relevant public authorities must provide an explanation to the crew member and the master, which the seafarer or master can request to be provided in writing.
The FAL Convention, which has been in force since 1967, covers matters that facilitate the smooth transit of ships, cargo and passengers during port visits, including customs declarations for cargo and ships' stores, immigration clearance for crew and passengers and their baggage, and import and export permits, among other items.
The Convention is continuously amended and updated by IMO Member States at the FAL Committee, which meets once a year at IMO's London Headquarters.
Copyright Ships & Ports Ltd. Permission to use quotations from this article is granted subject to appropriate credit given to www.shipsandports.com.ng as the source.