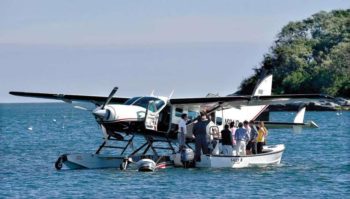 By Jite Eriabie 
Australia's transport safety investigation agency said on Tuesday it plans to raise a seaplane that crashed into a Sydney river on New Year's Eve, killing six people, including the chief executive of British catering giant Compass Group Plc.
Australian Transport Safety Bureau Executive Director, Nat Nagy said investigators would probe several lines of inquiry to piece together what happened, including a close look at the plane's avionics and maintenance record and the pilot's background and experience.
It was hoped the plane would be raised by the end of the week, Nagy said. A crane, airbags, or a combination of the two, would be used to raise the plane from the riverbed as gently as possible.
The plane is submerged in 13 meters of water near Cowan, about 40 km (25 miles) north of Sydney.
Nagy said investigators would also look for any other electronic devices, including iPads or iPhones that may have been on board when the plane crashed on Sunday, killing Compass chief executive Richard Cousins, 58, and four members of his family. The pilot, Gareth Morgan, 44, was also killed.
A preliminary report into the crash will be made public in about a month, although authorities have warned it may take up to a year to find out what happened.
"If we do identify any critical safety issues throughout the course of the investigation, we will immediately notify the relevant authorities to remedy any issues," Nagy said.
"This particular aircraft, I understand was manufactured in 1963, it's not unusual to have aircraft of that sort of age flying around … we haven't seen any systemic issues around this aircraft," he added.
Australian police have identified those killed with Cousins as Emma Bowden, 48, Heather Bowden, 11, Edward Cousins, 23, and William Cousins, 25.
Family members and media reports identified four of the victims Cousins' two sons, his fiancée and her daughter.
Cousins, who led Compass over the past 11 years, was due to step down in March after being widely credited with turning the company's business around and making it into one of the Financial Times Stock Exchange's best-performing firms.
The seaplane was part of the Sydney Seaplanes business that has operated since 2005 with no previous record of mishap. Seaplane flights have been canceled until further notice.
Copyright Ships & Ports Ltd. Permission to use quotations from this article is granted subject to appropriate credit given to www.shipsandports.com.ng as the source.