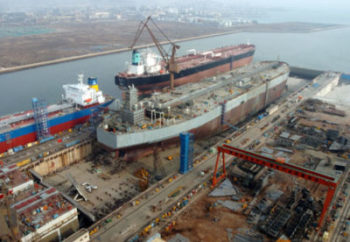 China's shipbuilding industry has experienced a 25.4 percent plunge in newbuilding orders during the first three months of 2017 compared to the same period a year earlier, according to data provided by the China Association of the National Shipbuilding Industry (Cansi).
Namely, the country's shipbuilders managed to score only 5.54 million dwt of new orders in the first quarter of the year.
However, the report shows that Chinese yards saw a surge of 87.7 percent, compared to the same quarter in 2016, in completed vessel capacity as a total of 15.67 million dwt of vessels were constructed during the period.
The yards' order backlog dropped by 26.3 percent to 88.65 million dwt, when compared to the same period a year earlier, and by 11 percent when compared to the order backlog seen at the end of 2016.
Additionally, Cansi informed that the 53 major shipbuilders secured 36.1 percent less of new orders which stood at 4.42 million dwt at the end of the three-month period, and completed 13.37 million dwt of vessel tonnage, representing a rise of 71.6 percent.
The report shows that the completed newbuild value at 80 of China's yards was down by 7.5 percent year-on-year to RMB 85.87 billion (USD 12.4 billion).
During the first three months of 2017 the 80 yards reported a drop of 9.7 percent in total revenue which stood at RMB 62.4 billion, while their total profit fell by 63.5 percent to RMB 250 million on the back of a slowdown in the shipbuilding industry. 
Copyright Ships & Ports Ltd. Permission to use quotations from this article is granted subject to appropriate credit given to www.shipsandports.com.ng as the source.