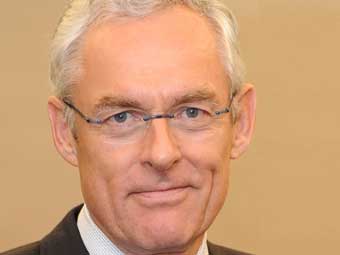 The shipping industry, in particular dry bulk and containers, has seen a marked improvement over the last 12 months, according to Singapore Shipping Association (SSA) President Esben Poulsson.
"Overall I would say we are in a much better place than 12 months ago… especially dry bulk and containers," Poulsson told a media briefing for Singapore Maritime Week (SMW) 2017.
Looking at the dry bulk sector he said there was a lot of optimism at the moment. The Baltic Dry Index is currently at around 1,200 points, compared to an all time low of 290 points in February 2016.
However, he added, "I hope we don't repeat the mistakes of the past, we have to hope any ordering will be moderate."
In the container sector Poulsson said that the bankruptcy of Hanjin Shipping had acted as a real wake up call, saying, "That led to more discipline in terms of the supply side….that has led to rate levels coming back to levels that are beginning to be sustainable."
On the question of consolidation in container shipping saw five mergers and acquisitions being announced in little more 12 months he said there was "still more to be done" but it would not be at the pace seen in 2016.
Looking at the tanker sector Poulsson said, "The tanker market is volatile and there are many ifs and buts. The supply side looks quite stable, but there is a lot of potential supply coming onstream."
Poulsson was even hopeful that the offshore marine sector was past its worst despite overcapacity of "huge proportions" for rigs and supply vessels. The global fleet of supply vessels has quadrupled from 1,000 in the early 2000's to 4,000 today, with another 700 – 800 newbuilds to be delivered this year.
"There is an enormous overcapacity that will take time to work through, but it is very much related to oil price," he said.
"Nonetheless, I'm still reasonable optimistic. I don't think there's going to be upturn in the offshore industry over night, but I think the worst is over time it will return to a healthy balance."
As to whether the Singapore government should provide more support to companies in the maritime and offshore sectors going through financial difficulties Maritime & Port Authority of Singapore (MPA) chief executive said market forces had to be allowed to take their course.
"As a maritime centre we are at a stage where there has to be some economic restructuring, and the restructuring has to be allowed to take its course. So we provided some targetted assistance to the maritime sector, but in terms of standing in the way of this restructuring we have to allow market forces to pan out.
"What we can do is help the industry prepare for its long-term capabilities when the market upturns," he added.   
Copyright Ships & Ports Ltd. Permission to use quotations from this article is granted subject to appropriate credit given to www.shipsandports.com.ng as the source.