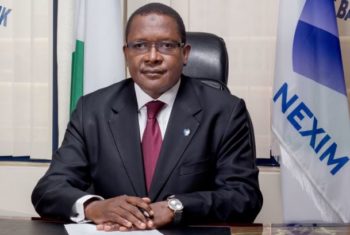 The Nigerian Export-Import Bank (NEXIM) Bank has continued to intervene in the key non-oil export sectors of the Nigerian Economy and has disbursed about N2.3bn between January, 2016 and February, 2017.
The acting Managing Director/Chief Executive, NEXIM Bank, Bashir Wali, disclosed this yesterday in Abuja.
He said agricultural sector had the bulk of the intervention even though other sectors like the manufacturing and the solid minerals also received significant patronage.
"Given the current policy of the Federal Government to promote the Agriculture and Solid Minerals sectors, about 46 percent (N1.058bn) of our intervention went to Agriculture/Agro-processing, while Manufacturing, Solid Minerals and Services received 26 percent (N605.13m), 11 (N240.00m) percent and 17 percent (N400.00), respectively" he said.
Wali further explained that "the total disbursement of N2.3 billion during the period is expected to facilitate the creation of 1,355 direct jobs plus many indirect jobs and has a foreign exchange generation potential of $8.10 million annually."
On the N500 billion export stimulation facility and N50 billion rediscounting and refinancing facility the NEXIM Bank CEO explained that, as part of efforts to boost investments in the non-oil export sector, the CBN recently approved the two funding schemes for which it appointed NEXIM as the Managing Agent.