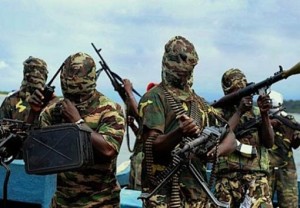 A chief in Gbaramatu kingdom, Godspower Gbenekama, says that the people of Niger Delta will resume attacks on oil facilities if they continue to feel that the government is ignoring them.
Gbenekama said no one can be assured that nothing will happen in the Delta.
Some youths from the region had allegedly carried out attacks on oil facilities to protest the continued silence of the federal government about issues in the Niger Delta, which resulted in reduced oil production output.
Acting President Yemi Osinbajo had visited communities in the region, holding peace talks and town hall meetings to broker peace.
"The people of the Niger Delta can hold this government or any government to ransom because we are the people feeding the nation.
"This peace is a graveyard peace. Nobody can assure anybody that nothing will happen in the Delta," Gbenekama said.
Annkio Briggs, a leading activist in Port Harcourt, described the peace talks as lies and deceit while Richard Akinaka, who represented the youth in Rivers state for a meeting with Osinbajo, said the government is treading a disastrous path.
"The government is treading on a path that is disastrous setting a precedent that they will only negotiate with the Delta when they start blowing stuff up," he said.
He dismissed the meeting with one word – 'bogus'.
However, a government spokesman said the government has not reneged on the agreement and the government will never do so.
"The government has not reneged and will never renege on any agreement. Call for resuming attacks when the government is diligent in actualising the terms of the agreements and requests made will not help matters," he said.
The government official said it would take time for other agreements, such as the planned opening of a university and community ownership of small-scale refineries, to come to fruition.     
Copyright Ships & Ports Ltd. Permission to use quotations from this article is granted subject to appropriate credit given to www.shipsandports.com.ng as the source.