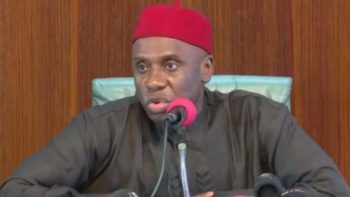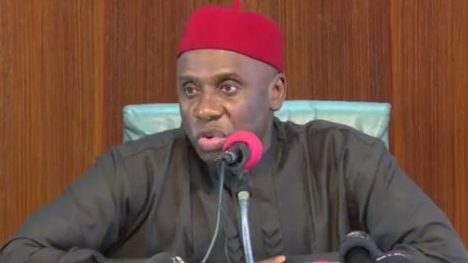 Minister of Transportation, Rotimi Amaechi on Monday said that the economic recession being faced by Nigerians and the country is no longer biting hard as it was the case in recent times.
According to him, there is now an improvement in the economic fortunes of many Nigerians no matter how little.
Amaechi in a chat with newsmen after boarding a train to Ijoko, Ogun state during an on the spot assessment of the construction of Lagos –Ibadan standard gauge urged Nigerians to give the present administration time to rebuild the country.
Amaechi who took a walk from the train station in Ijoko to the flyover bridge close to Ijoko market was greeted by market women and traders who mistook him for the state governor, Ibikunle Amosun and pleaded with him to address the suffering in the land.
"The suffering is unbearable", chorused the market women even as some of them lamented that they toiled hard to sponsor their children to schools but they remain unemployed after graduation.
One of them, Mrs. Adaramoja said, "I have children who have finished higher institutions but in this country if you don't know anybody you cannot get jobs. This is no fair, government should address our plights".
Amaechi who later spoke with newsmen inside the train noted that recession was not as biting as it used to be.
While he acknowledged the need for government to focus on rebuilding the nation as it promised to do during the electioneering campaign of the All Progressives Congress (APC), Amaechi said Nigerians should equally know that the economy was very bad when the present government took over.
He said, "When recession was biting, people were shouting recession. Now that it is no longer as biting, though there is still recession but it is not as biting as before, there is an improvement, true or false?
"Whether it is little or not, there is an improvement. Don't forget that when we came, the economy was very bad, nobody wants to remember that. I agree with people that put up the agreement that 'we should shut up our mouth and work, that we knew there was a problem and that was why we asked to be voted in and that was why we were voted in'. So I agree with them but they should acknowledge first that there was a problem.
"We are addressing the issues and you must give us time to rebuild. Rebuilding is not one day, it doesn't happen one day, does it?" 
Copyright Ships & Ports Ltd. Permission to use quotations from this article is granted subject to appropriate credit given to www.shipsandports.com.ng as the source.