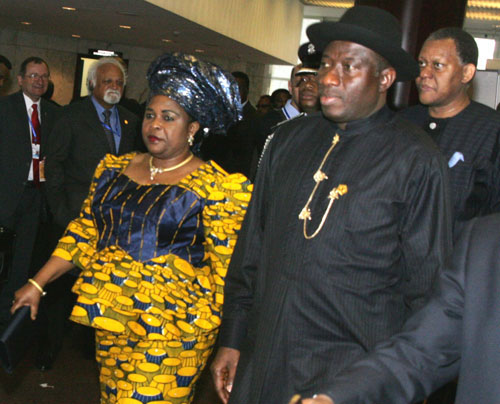 The Niger Delta Avengers have pledged to lay down their weapons and resume talks with the Nigerian government after months of attacks on the country's oil and gas infrastructure that have crippled the economy.
In a message posted on the group's website late on Saturday, the NDA said it would "observe a cessation of hostilities" in the Niger delta and would support any effort to negotiate with "the federal government of Nigeria, representatives from the home countries of all multinational oil corporations and neutral international mediators."
"We will give our Niger Delta elders and genuine stakeholders that tacit support to the dialogue table with the government and the Multinational oil Corporations whenever the enabling environment prevails," said Mudoch Agbinibo, the spokesman for Avengers.
The group, however, said it would only a negotiation team put in place by a Niger Delta elder, Edwin Clark, with the aim of "achieving the short, medium and long-term frameworks and objectives to de-escalating conflicts in the Niger Delta."
"Most of the frameworks and objectives are clearly stated in various reports, declarations and recommendations of the likes of the Sir Henry Willinks minority rights reports of pre-independence Nigeria (1957-8), The Kaiama Declaration document, The General Alexander Ogomudia report, The Leedum Mittee headed Niger Delta Technical Committee report and restructuring to fiscal federalism," Agbinibo said.
But the NDA warned that it would resume hostilities if  "the Nigerian government and the ruling political APC continues to use security agencies/agents, formations and politicians to arrest, intimidate, invade and harass innocent citizens, suspected NDA members and invade especially Ijaw communities."
Since the start of the year, the NDA has carried out a string of devastating attacks on Nigeria's oil pipelines and facilities.
Oil majors including Shell, Exxon, Chevron, Eni and the state-run oil group NNPC have all been targeted this year.
The attacks have reduced Nigeria's output by a third, hammering government revenue at a time of low global oil prices.
The oil sector accounts for 90 percent of the nation's foreign exchange earnings and 70 percent of government revenue.
The NDA has claimed to seek a fairer share of Nigeria's oil wealth for residents of the region as well as self-determination and political autonomy.