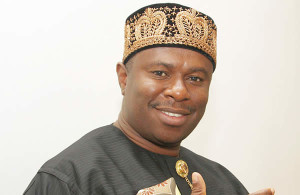 The Director-General of Nigerian Maritime Administration and Safety Agency (NIMASA), Dr Dakuku Peterside, has said the country accounts for about 60 per cent of sea-borne cargo in volume and value across the West and Central African subregions.
Peterside, who spoke yesterday in Abuja at the 3rd conference of the Association of African Maritime Administrators (AAMA), also said, "As the sixth largest OPEC exporting country, we contribute significantly to the global energy supply and wet cargo traffic."
The NIMASA boss and host of the conference tasked the participants on concerted efforts towards developing the African maritime sector saying, "We have a collective responsibility to promote new awareness and appreciation of the inevitable role maritime transport and blue economy can play as an enabler of the economic development of our continents."
The theme for the conference which ends today, April 21, is, 'Sustainable Use of Africa's Oceans and Seas'.
Peterside said the conference was first held in Kenya in 2012, and then hosted by South Africa in 2013.
Vice President Yemi Osinbajo who declared the two-day conference opened, said the peace moves by government in the Niger Delta was an apparent way that Nigeria was enhancing maritime safety and security in the Gulf of Guinea.
Osinbajo who represented President Muhammadu Buhari urged AAMA participants to strengthen coast guard security strategy and be united if the objectives of developing the African maritime industry must be realised.
Shortly after the vice president unveiled the new logo of NIMASA towards its reformation, the agency said the logo is also to mark 10 years of its existence.
NIMASA said it is rebranding its services for efficiency noting that, one of its achievements is reducing sea piracy in Nigeria by 60 per cent.
The Minister of Transportation, Rotimi Amaechi reiterated government's commitment to boosting the local industry saying many reforms including the ports reform and upgrades are in place.
He said Nigeria has adopted many charters and that she has attained 80 per cent implementation of IMO's International Ship and Port Facility Security (ISPS) Code to enhance ports security.
The Secretary-General of the International Maritime Organisation (IMO), Kitack Lim urged AAMA to make robust plans for the 2017 African Day of Seas and Oceans to be marked on every July 25.
Represented by an IMO official, William Azu, the IMO scribe called for more investment in the African maritime industry noting that the 2016 UNCTAD review of maritime transport indicated that Africa is still far behind in terms of investments.